Defending the Dollar's Turf
treasury comments on bitcoin and libra
Your daily snapshot from our OnChainFX markets dashboard.
Theres still time. Susbcribe today and get access to our daily research briefs, bi-weekly conference calls, and private discussion group - plus early access to the new Messari Pro platform.
[TBI Note: I'm on vacation this week, so Jack Purdy breaks down today's cryptocurrency-themed press conference with Treasury Secretary Steve Mnuchin. It seemed like a bit of a nothingburger if you ask me.
I continue to believe Facebook will end up serving as a lead blocker for bitcoin, and that governments will be so busy tying themselves in knots to stop Libra, there's still time for cryptocurrencies to build more support while hiding in plain sight.
The gist from the hearing was "don't do bad stuff, or we'll catch you." Negative talking points, but the punch lines were old news...nothing that would have felt out of place five years ago.
The ultimate winner here has got to be this photo though, which now has amazing crypto twitter meme potential.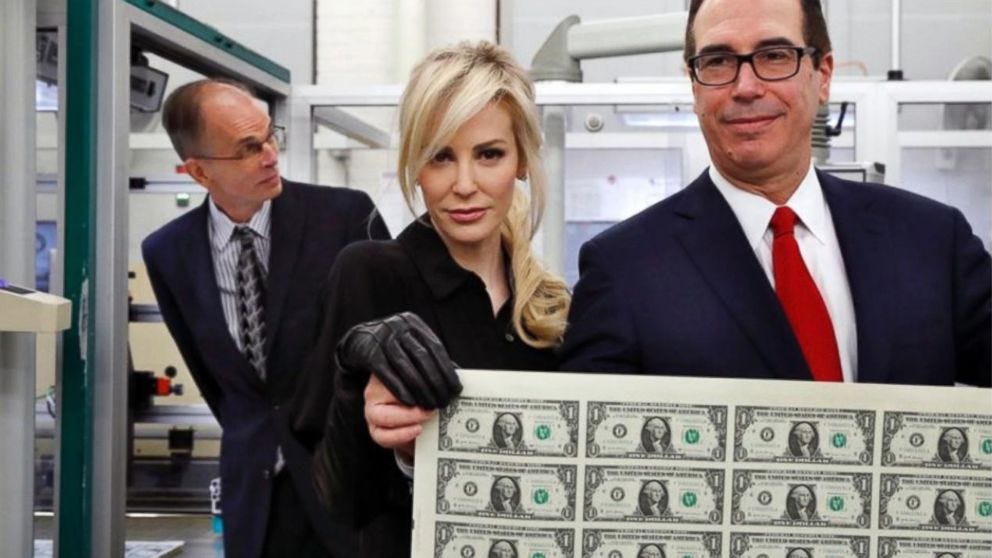 -TBI]
Defending the Dollar's Turf - Jack Purdy
Earlier today U.S. Treasury Secretary Steven Mnuchin held a press conference covering Facebook's Libra and Bitcoin.
Echoing previous comments from his department, and some recent ones from President Trump, Mnuchin covered the basic talking points of Bitcoin's volatility and potential use in criminal activity (money laundering for drugs, terrorist financing, and tax evasion - the big three!) going so far as to call bitcoin a "national security issue."
All publicity may be good publicity for bitcoin, as legions of supporters will defend the ecosystem from this sort of narrative, but it's still somewhat disconcerting that false narratives are being spread to a wide audience from the world's most powerful people.
It's no secret crypto has enabled illicit activity in the past (and continues to do so) given its global, permissionless nature. Marketplaces such as the infamous Silk Road have allowed billions of dollars to be spent on drugs, stolen credit card information, and worse. It's easy to spin this into a story on how crypto is predominantly used for criminals, but luckily the data is on our side.
Chainalysis, a leading blockchain forensics and compliance tech platform, has done extensive analysis tracing the flows of bitcoin and other cryptocurrencies to darknet marketplaces. The research shows that while the nominal amount has increased steadily over the years, its percentage of the overall economic network activity transacted has declined considerably.
In the first half of this year, illicit bitcoin payments increased to $515 million, putting us on pace for the first year of billion dollar bitcoin commerce on the darknet.
This sounds bad.
But you have to put it in perspective. That's less than 1% of all economic activity transacted in Bitcoin, and pales in comparison to what we see outside of crypto.
The United Nations office of Drugs and Crime estimates the amount of money laundered across the world is 2%-5% of global GDP or between $800 billion and $2 trillion dollars. Most money launderers still use the US Dollar and existing banking system for convenience.
We have another theory as to why this is suddenly a topic du jour. Mnuchin's real punch line was this one:
"The US takes very seriously the role of the dollar as the world's reserve currency"
Until recently, the powers that be have not taken crypto very seriously. Bitcoin is still a fringe technology with a relatively small user base.
It appears that Libra has brought crypto very much on the radar, and this session was held in anticipation of tomorrow's sessions on Capitol Hill with Libra's David Marcus. You can watch here. Pre-read his prepared remarks here.
The real meat to watch for will be in the Q&A and how Marcus frames Libra versus bitcoin. Will he throw decentralized predecessors to the wolves? Warn legislators that they're pushing innovation overseas?
If illicit activities truly are the chief concern of the U.S. government, they should be happy about both bitcoin and Libra relative to cash, as a a public ledger makes it a trivial task to track activity - just ask Chainalysis, whose primary customer base includes law enforcement and compliance teams. If a threat to reserve currency status is their primary concern, then Libra will continue to get most of the near-term heat.
Regulators aren't afraid of Bitcoin being used by criminals. They are scared the USD losing reserve status, which is starting to look like a very real possibility.
-Jack
P.S. Share. Subscribe. Spread the love. Tweet at me or Messari for requests, feedback, comments, or questions.
---
Best of the Boards
This week we are highlighting some of the best user generated boards from the past week. Build your own, tweet it, and tag us us for a chance to be featured next week!
LRS55 - Week of July 8-14 - @nlw
For the 55th edition of Long Reads Sunday Nathaniel Whittemore takes a look at last weeks top trends. Ready the whole story here or check out the board for all the content in one place
As the title states this board is about all things decentralized finance (DeFi). Learn about this growing segment of the crypto industry through tweets, blogs, and more.
Bitcoin & quantum security research - @marsmensch
Everything you want to know about quantum computers and relevant developments within the cryptocurrency ecosystem.
Did I miss something?
Send me the link, your twitter handle and your best imitation compression algorithm write up. If I like it, I'll include your bit next issue (with attribution).
Should your colleagues read daily? We now offer discounts for corporate access. Email us, and we'll onboard your whole team.