ETHDenver Themes - Unqualified Opinions
a monster holiday weekend of buidling...
Your daily snapshot from our OnChainFX markets dashboard.
For those in the U.S. who were fortunate enough to take the long weekend this past weekend, welcome back!
And welcome all, to your new 11am ET edition of Unqualified Opinions. (You asked for earlier, consistent send times. We listened.)
I spent yesterday (Presidents' Day) recovering after a terrific few days in Denver for the second annual ETHDenver hackathon. It was my third ETH hack (we also hit Berlin last fall), and I can tell you that these keep getting better and more exhausting.
The highlight for me, of course, was getting photobombed by a #bufficorn (buffalo / unicorn) while livestreaming with ConsenSys CSO Sam Cassatt:

In fact, I ripped through 15 live Periscope interviews (many of which will be converted to podcasts next week), to help you, my dear friends suffer from FOMO.
Buzziest conversations at the event:
1) Erik Voorhees unveils the new ShapeShift. We talk about the new product a bit in our live chat, but I was excited to see the live demo, and how the company has pulled together the many facets of the old product (KeepKey, CoinCap, PRISM), into a new non-custodial platform that is a major step up from the original. Get early access here.
2) Most of the smartest people I know were gushing over Dan Elitzer's "Superfluid Collateral" post. Dan proposes the notion that collateral in DeFi applications could potentially be leveraged in multiple places at the same time. ETH can't necessarily be in two places at once, but it should be possible, for instance, to send ETH to a "deposit token" contract with Compound (an interest-earning money market), then use "Compound ETH" - an ERC-20 contract - as collateral in Maker. It's a more transparent form of rehypothecation. Dan thinks we could soon see "collateralized collateral collateralizing collateralized collateral." That has obvious pros and cons.
3) One of the services Dan calls out in the post, Uniswap, is on an absolute tear. The fully on-chain DEX provides liquidity and earn fees automatically using concepts similar to bonding curves (Bancor without the ICO). 4x growth in a month. Staggering.
Scalar Capital's research analyst Cyrus Younessi broke down Uniswap for us back in December. Further confirmation that the industry's best research continues to live on Medium and in the minds of the builders.
***
Other worthwhile interviews from the rest of the weekend, that happened after Friday's post.
Big week this week. See you tomorrow. :)
-TBI
P.S. Share. Subscribe. Spread the (rational) crypto love. Tweet at me or Messari for requests, feedback, comments, or questions.
---
Best of the Rest - What We Missed Last Week
Every weekend, we dig through the past week's posts from crypto's other great sources of content to see what we missed in our own weekend reads.
Here's us curating the curators:
Decentralized credit scoring - Jill Carlson
(h/t Token Daily)
Decentralized systems have largely removed the need for centralized coordinators in a range of applications. Cryptocurrencies, decentralized exchanges, and decentralized lending are just some examples of how these systems are being used today. One of the key elements needed for a successful decentralized ecosystem is identity, and by extension reputation. In this piece Jill Carlson looks at how decentralized credit scoring could replace the current centralized, and oligopolistic, services used today.
Market Mapping Crypto - Ash Egan
Mapping the crypto-industry can be challenging, but Ash Egan of Accomplice VC offers two distinct but also complementary and partially overlapping categories for seeing the entire space: crypto-enabling and crypto-native companies.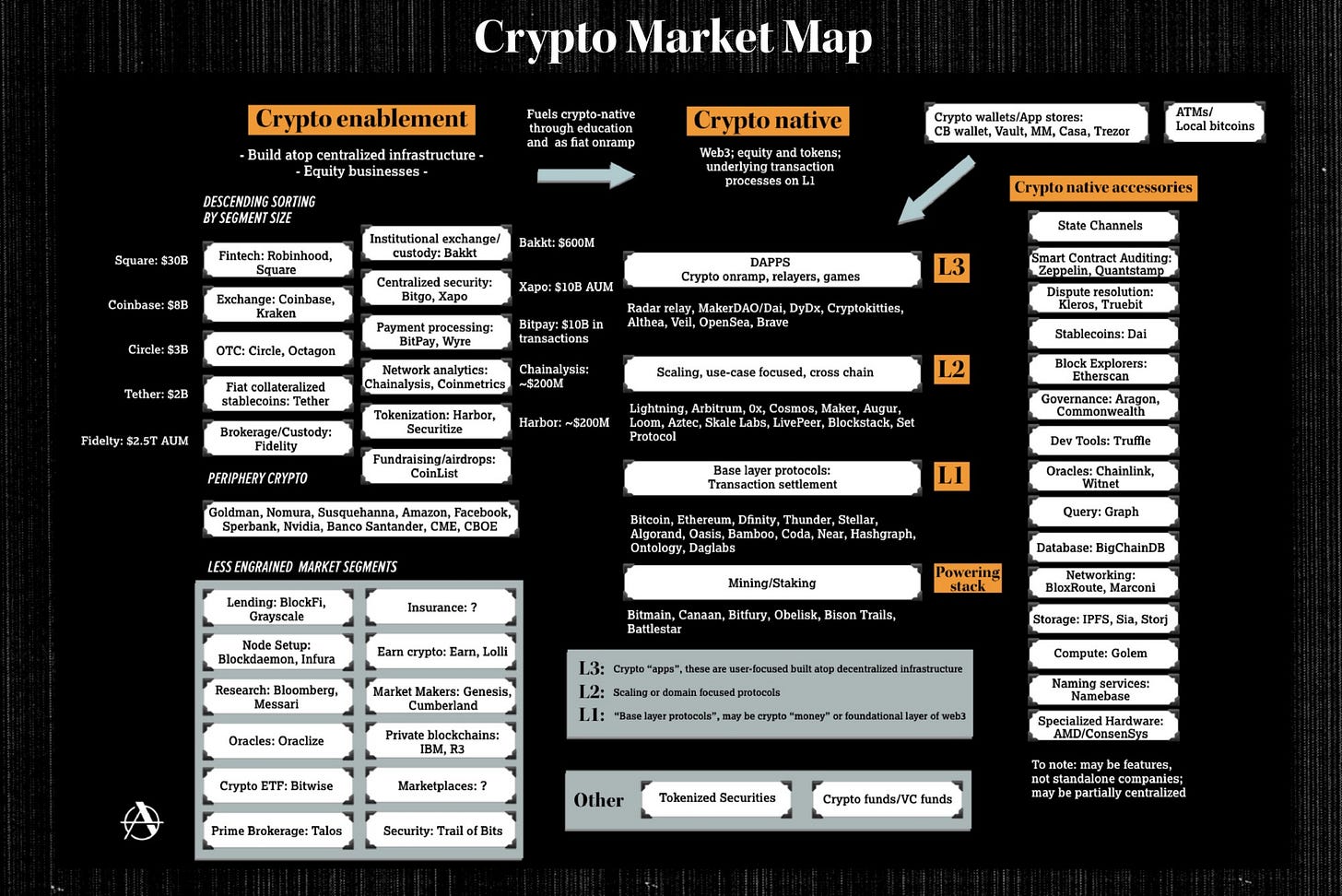 The first references companies that are building for or are themselves institutional users. The latter references companies that are actively developing the "crypto stack" and its ancillary components (e.g. base layers, dapps). These categories will continue to interact and overlap as they mature, but nearly every company building in the space is either a crypto-native or –enabling enterprise.
Building confidence, not dapps - Taylor Monahan
(h/t Token Economy)
In a presentation from Mainframe's Decentralized Summit, modified for Medium, Taylor Monahan lays out how confidence is needed for users to adopt Dapps. With Dapps the user is totally in control, there is real monetary value at stake, and no undo button. With Dapps today users are often too scared or turned off by the hard to understand flow of using decentralized services which is often the fault of Dapp designers. Monhan offers thoughts on how to remedy this issue and create applications that engage, educate, and empower the end user.
Did I miss something?
Send me the link, your twitter handle and your best imitation compression algorithm write up. If I like it, I'll include your bit next issue (with attribution).
---
Podcast Recap
🎧 ICYMI Ryan (TBI) and Arjun Balaji sat down for over an hour to discuss what they see happening in the industry during 2019. If you are a subscriber, make sure you have caught up on our two part series and check out Arjun's theses for 2019.
You can view the full video here and as always you can listen and subscribe to all of our podcasts— on Apple Podcasts here, Spotify here, and Google play here.
Shameless Plugs
We want your feedback!
We know Messari can feel like a couple different products right now, and we're working to unify our features into one overarching whole. Head over to our new feedback tool and let us know what you think! 🛠
We're Hiring:
We need data engineers who want to bring transparency to crypto!

Join a fast growing team in NYC; work with crypto OGs, and former Bloomberg/Palantir engineers; & access a network that sets you up for the rest of your career. Apply here!
Join Our Community:
If you are interested in helping us crowdsource token project details, or want to join our community to share your expertise, we'd love to have you on board! Take a second to fill out an application and we will get back to you soon.

Going forward, we'll be capping new members at 15 each week to keep things running smoothly. If you haven't heard back, you are probably in the queue.

Like what you read? Share it! Hate what you read? Let me know @MessariCrypto.