Long Grayscale, Short Crypto
them there side door ETFs are nice (if you're accredited)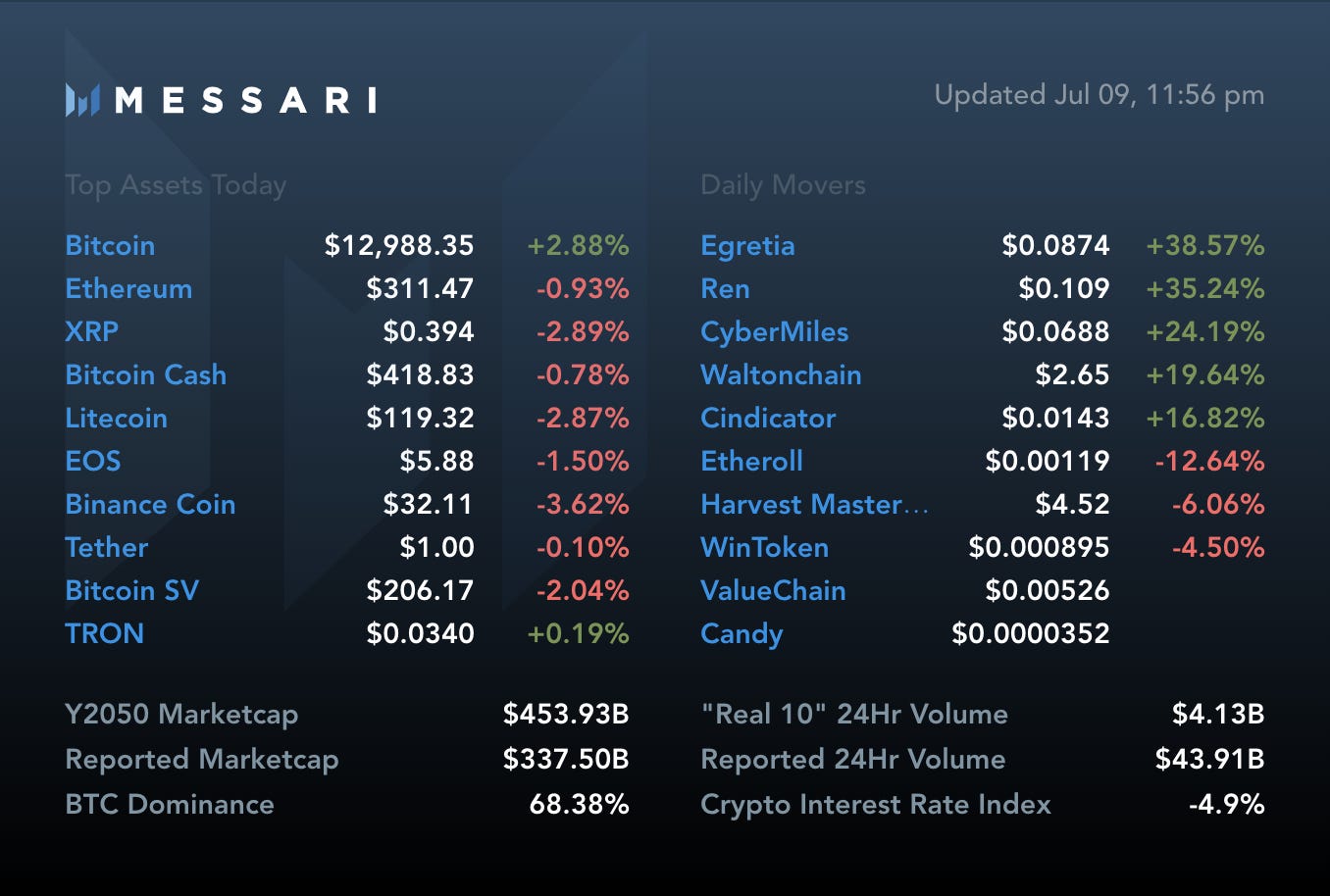 Your daily snapshot from the OnChainFX markets dashboard.
To celebrate the beginning of Q3, our 10,000+ subscriber milestone, and the imminent launch of Messari Pro next week, we're providing free editions of these Unqualified Opinions all week long. Thanks for your support to date. It's going to be a wild ride the rest of this year. :)
Today, a stupid investment I'm thinking of making. Not investment advice, but please tell me where I'm wrong.
Enjoy!
(And tell your friends and colleagues to subscribe to UO.)
Long Grayscale, Short Crypto
(Not investment advice, entertainment, contact your financial advisor, yada yada yada.)
One of the craziest trades in the crypto market right now is hiding in plain sight.
At least, if you can afford it. And if you're game for a year long holding period.
I'm talking about Grayscale Investments' side door "ETFs", and in particular the Bitcoin Investment Trust and the Ethereum Investment Trust (and maybe, as I'll explain later this week, the ZCash Investment Trust).
Buying these as a retail investor on OTC Markets is for greater fools, as the unique structure and relative illiquidity makes these assets difficult (impossible?) to short and causes the shares to price at a whacky premium.
But if you're an ETH HODLer anyway, at least for twelve months or more, there's gold in them there hills.
Weeks after the launch of Grayscale's Ethereum Trust launched at an absolutely bonkers 1000%+ premium to the net asset value of the underlying, it's come back down to earth…to a mere 170%.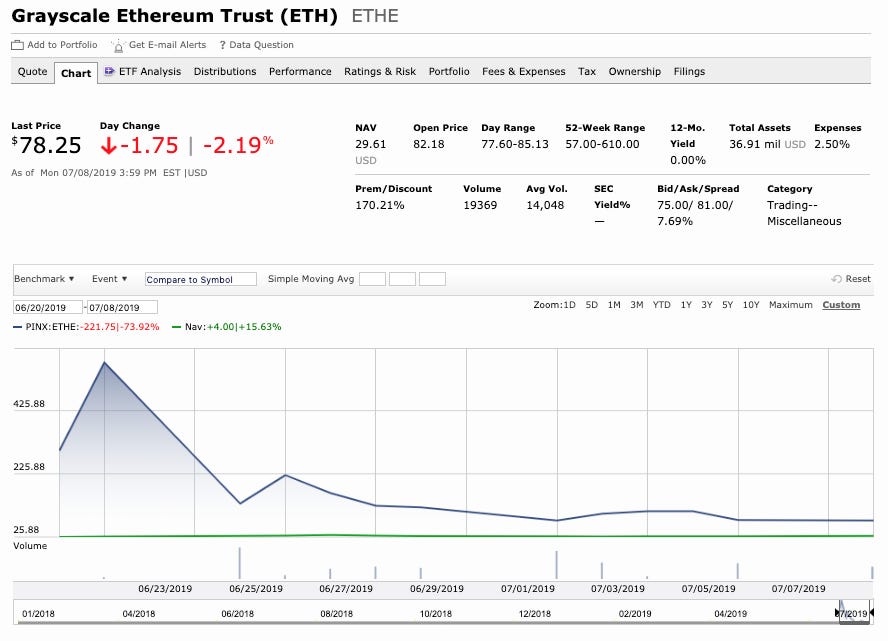 That means if you bought ETH at $480 a year ago, you'd still be sad (down 30%).
But if you created ETHE shares through Grayscale a year ago at the NAV of $480, well you'd be pretty darn happy. Assuming you went through the process of selling those restricted shares through something called Rule 144, you'd be up over 60% right now.
You could sell the ETHE shares, pay the cap gains tax, and immediately plow back the gains into a new basket of shares at today's NAV, setting the timer on a new batch of shares that could be sold in a year and a day…very likely at another premium to NAV.
This sounds too good to be true, right?
Surely, this premium will subside in the months ahead as ETHE's unrestricted supply grows and rationality sets in for investors who purchased the instrument and then realize, "oh shit, this was a bad idea."
Well, the premium will likely shrink, but it probably won't go to zero.
To highlight this point, we have a much more liquid, much older case study to compare ETHE to: its big brother GBTC, the Bitcoin Investment Trust, still today after three years of trading, traded at a 30% premium to its NAV.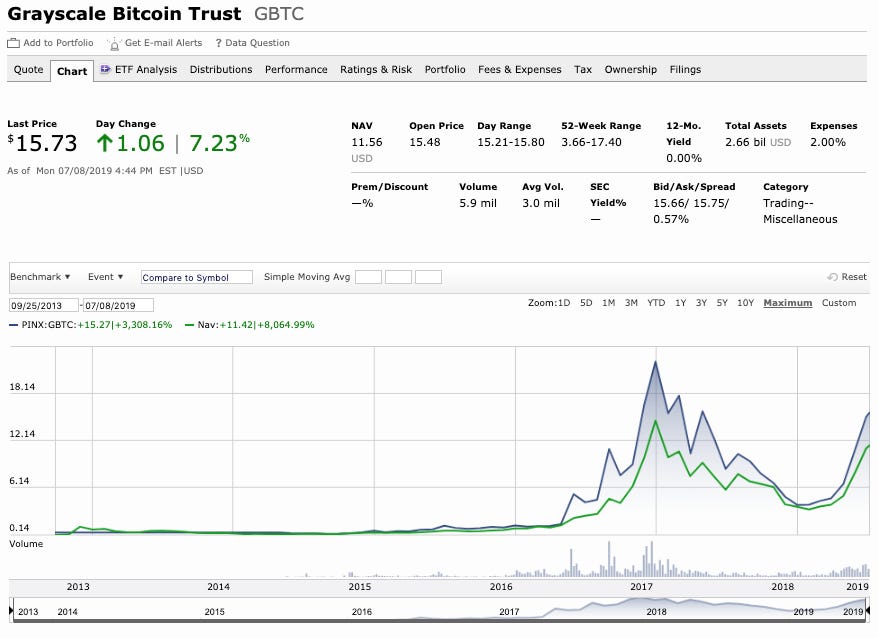 In fact, GBTC has yet to complete a single month where it traded at a discount to NAV. It's average premium is 35%, a gap that had narrowed, but seems to be widening again as bitcoin begins a new rally. The premium may only dissipate once a proper ETF is approved by the SEC.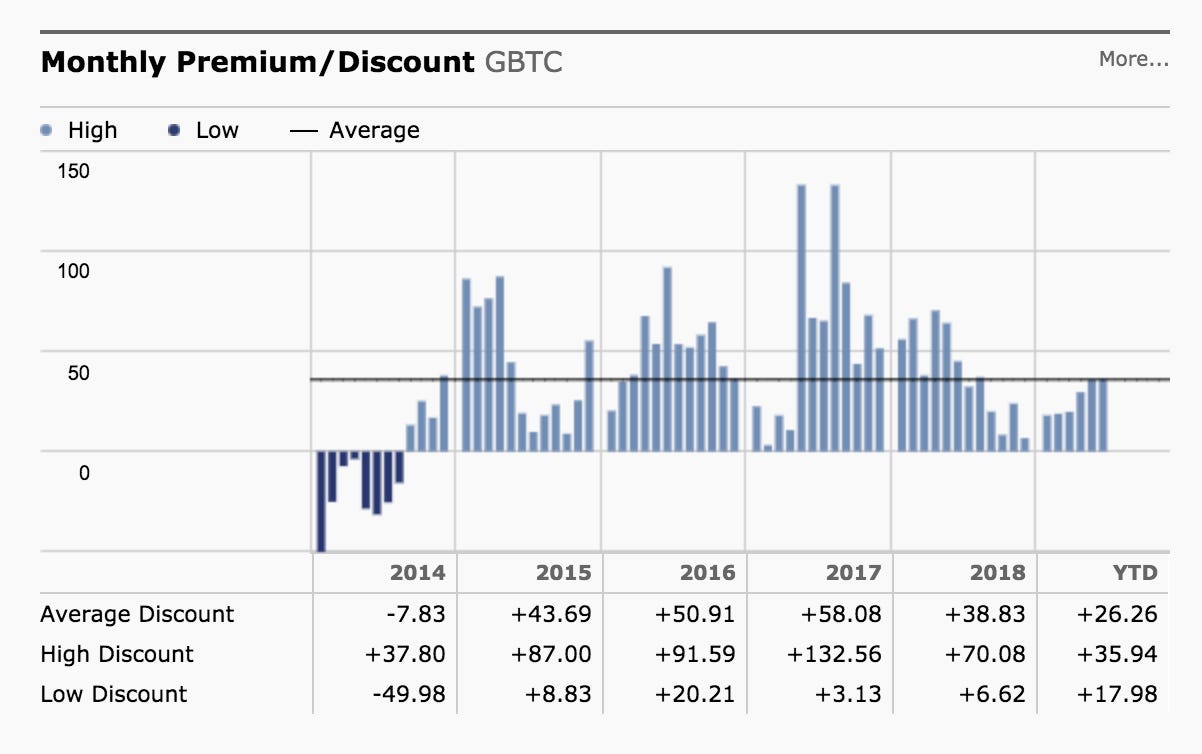 (source: Morningstar)
There are a few ways I'm thinking of playing this myself. Your mileage may vary.
If you're going long bitcoin and you're accredited, this seems like a pretty safe bet if you're comfortable with the year holding period. I suppose there is some risk that the SEC shuts this product down, but I'm not sure there's precedent for that on a product like this that's already trading under Rule 144. Even if there was, I'd imagine Grayscale would reinstate some other form of redemption program, so maybe you'd be out the 2% annual management fees, and get your bitcoin back.

If you're really aggressive, you might try to borrow against the shares created. If the lender looks at your Grayscale shares as full collateral for a year-long loan, you could buy a new basket of shares at the NAV, borrow against that basket, and come out ahead. This is essentially a bet against the GBTC ETF approval in the next twelve months, as a properly functioning ETF would trade close to the NAV every day as authorized participants created and redeemed baskets of new shares.

The bitcoin ETF is on the horizon maybe, so perhaps maybe #1-2 seem like a waste of time and there's an opportunity cost (and 2% fee) associated with that type of trade. But maybe you're less bullish on ETHE making it to prime time as an ETF, and even less bullish on ZCash making it out as an ETF. Buying new shares there, and hoping for similar (or greater premiums) on Grayscale's more thinly traded counterparts once you can sell under Rule 144 might be a path.
This isn't riskless, but it's worth looking in to, as the risk-reward seems right.
Full disclosure, I am likely going to pursue options #1 and #3 myself.
I don't feel great about the person on the other side of that trade in a year, but I'm hoping that the ends justify the means, and enough financial pressure builds up on the SEC close side doors, open front doors, and approve these fucking things already.
-TBI
P.S. Have questions? Want to troll us? Let us know on Twitter.
---
Messari Compression Algorithm
Content and thoughts from around the web as summarized by the Messari team.
🏦 [Analysis] Full reserve banking with Bitcoin - Tamas Blummer
Today's financial system stands on the verge of collapse thanks to fractional reserve banking, argues Tamas Blummer. The symptoms of a sick system are near zero interest rates and negative sovereign debt yields. The only way out is full reserve banking which can be done with Bitcoin ($BTC), minus some obstacles. Proof of Reserves provides only a snapshot of credibility. Blummer calls for leveraging Bitcoin's programmable nature for credit covenants that offer full accountability within crypto lending. (share or read more)
⛓ [Analysis] Sidechains are not Layer 2 - Georgios Konstantopoulos
Sidechains leverage Proof of Works blockhead design to secure funds, writes Georgios Konstantopoulos. When transferring funds between the Bitcoin ($BTC) mainchain and a sidechain like Blockstream's Liquid, group signatures are used for verification. As PoW schemes, these signatures are dependent on computational power rather than passwords. In this manner, the alternative chains trustworthiness can be verified just liked the mainchain: the longer the better. Structural challenges remain, specifically counter party risk through the use of central authorities, also known as federated entities. If counter party risk exists, so does coin loss.
Sidechains, Konstantopoulos asserts, should be thought of as BTC alloys. The risk of losing a sidechain asset should be weighted within its value. A sidechain BTC should be worth BTC/X versus one BTC equaling one BTC.
Layer 2 solutions have no counter party risk. Building upon Layer 1's security and game theory, Layer 2 solutions allow for value transfers without need for risk management. (share or read more)
Quick Bits (Don't read that, I read it for you)
Choke Points (Exchange News)
🦁 Bitfinex will use 27% of past and future Tokinex initial exchange offering revenues to burn Leo ($LEOT) tokens, according to an official blog post. The exchange did so with Tokinex's first IEO of Ampleforth ($AMPL) which raised $5 million in 11 seconds off 10% of its total token supply. (share or read more)

🕸 Stolen Binance funds are on the move again with 707.1 Bitcoin ($BTC) worth $8 million split over two transactions today. Binance's May 2019 hack cost the exchange $40 million at the time now valued at $83.5 million. The spider web of hacked fund transfers points toward the hacker seeking a cash out method. (share or read more)
Startup Signals (ICOs, Cryptos, and Startups)
💰Fortress Investment Group is offering $900 per Bitcoin ($BTC) owed under the current civil rehabilitation of defunct exchange MtGox. The exchange went belly up in 2014 with 850,000 Bitcoins on its servers missing. The $900 offer is 200% of bankruptcy claims to $451 per coin. (share or read more)

📈 Bitcoin's ($BTC) mining difficulty jumped by 14.23% from 7.93 trillion to 9.06 trillion at block 584,640 on July 9th. The jump clear past the 8 trillion range has predictions for the next adjustment to 10.35 trillion. Hashing power hit as high as 74.5 quintillion hashes per second, although the percent increase in hashing power over the current run remains about half of the 2017 bull run due to supply restrictions. (share or read more)
The Powers That Be (Legal/Reg/Policy)
🇸🇬 The Inland Revenue Authority of Singapore (IRAS) may drop value-added taxes from cryptocurrency transactions, according to CoinTelegraph. The draft e-tax change would go into effect Jan. 2020 but would only include tokens the IRAS deems medium of exchanges. Under the draft, stablecoin transactions would continue to be taxed. (share or read more)

💻 New IP log evidence from the New York Office of the Attorney General argues New York-based iFinex accounts were in use until Jan. 2019, according to The Block. The NYOAG believes the illegal accounts give the attorney's office authority to seek former charges against iFinex subsidiaries Bitfinex and Tether ($USDT) under the Martin Act. The suit claims Bitfinex and Tether co-mingled and covered $850 million in funds following Bitfinex losing access to funds through governmental confiscation. (share or read more)
Did I miss something?
Send me the link, your twitter handle and your best imitation compression algorithm write up. If I like it, I'll include your bit next issue (with attribution).
Should your colleagues read daily? We now offer discounts for corporate access. Email us, and we'll onboard your whole team.
---