Messari News Week #3 - We Closed a $4M Round
also bitcoin actually fixes this (gambling, porn, dissent)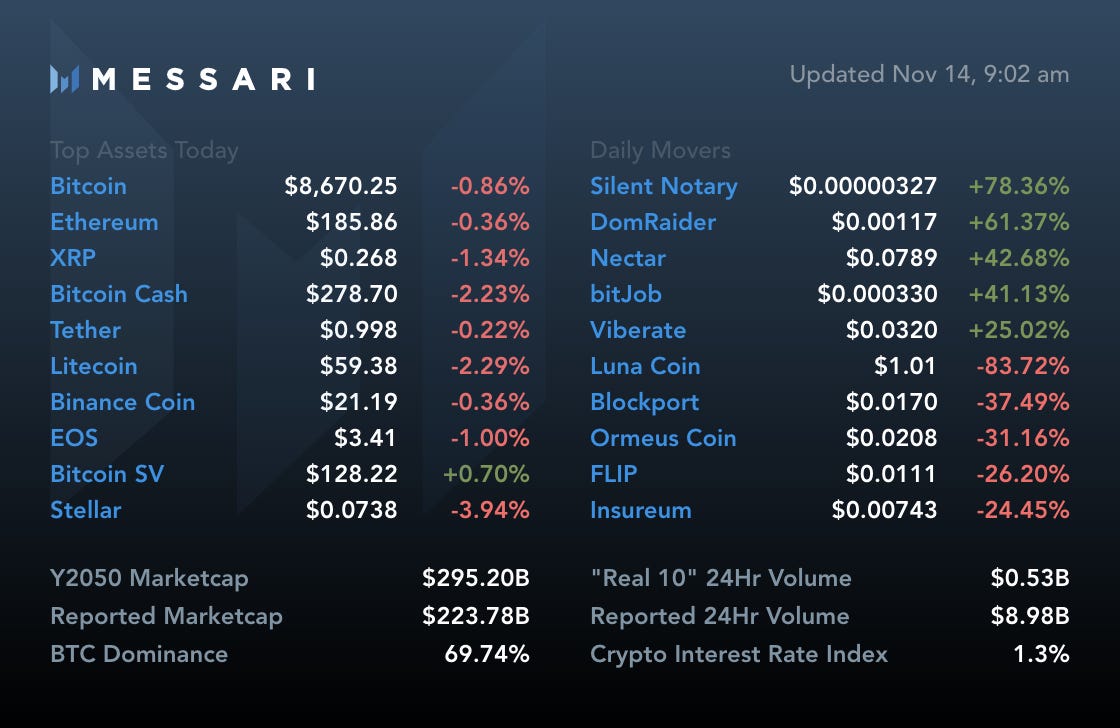 Your daily snapshot from our OnChainFX markets dashboard.
Three major Messari items to share today. The first leads to the second two.
PLUS a quick note on Porn(Hub).
Come for the news, stay for the porn in today's double feature is not a thing I thought I'd ever be able to write in a professional memo. But here we are…
Messari News
1) We've closed a $4 million funding round led by Uncork Capital. Jeff Clavier, Uncork's founder, and a former Thomson Reuters executive, will join our board of directors. Great team, awesome track record, but perhaps Jeff's greatest flex as a VC is owning the @Jeff twitter handle. We're excited to bring another world-class investor (officially) into the industry as this is Jeff's / Uncork's first crypto deal.
The round included support from existing investors Anthemis Group, Blockchain Capital, CoinFund, Danhua Capital, Fabric Ventures, Fenbushi Capital, Semantic Ventures, and Underscore VC. New investors Coinbase Ventures and Balaji Srinivasan participated as well. Off to the races.
2) How does this impact you?
Well, we've doubled the size of our research and engineering teams in the past 2.5 months. This funding (and expanded headcount) will help us invest in the tooling necessary to further automate our data ingestion processes and broaden the feature set of our Messari Pro beta research product. If you're not a paid subscriber, you're missing out. It's like CoinMarketCap, but for crypto professionals who would rather use FactSet or Bloomberg, but who also want to spend $300 / year vs. $3000 / month.
AND we've added depth to the marketing team. That means these newsletters will arrive punctually and consistently in your inbox at ~9am ET everyday henceforth. No more "TBI hits send right before he passes out" bullshit. Thanks for bearing through that transition process. I think you know by now that writing daily is a labor of love for me, so the new staffing + process will ensure this is something I can do every morning in between deadlifts / breakfast steak and playing with my kids for a minute.
3) If you're an "enterprise customer" - token creator, exchange, fund, broker, info service, etc. - we should talk about some of the more advanced tools we've recently launched. (NO NEED TO FILL OUT A FORM, YOU CAN REPLY DIRECTLY.)
Our token registry business is en fuego (as the kids used to say), and every day we get closer to having a ubiquitous public utility that serves as a single source of truth for the industry. On Monday, we wrote about our new and improved asset pages (major depth on bitcoin and smaller, legit up-and-comers alike). That's the real-time overview of every project in our library. But let's say your a compliance team or investment analyst or product person that needs to *track changes* to these profiles and understand the impact a potential project update could have on your business: that's what our new asset monitoring service is for.
We send alerts and reports on major governance updates, changes in sentiment or business/technical roadmaps, potential forks or airdrops, and more. It can be a nightmare to get blindsided by one of these edge cases if you're managing a portfolio or leading a product that relies on consistent, high-quality qualitative information. That's where we can help as your compliance research team.
Enough about us.
Let's read some porn.
***
"Bitcoin fixes this" PornHub edition
Set aside cracks about PayPal screwing PornHub performers. This is important.
What happened:
PornHub announced last night that PayPal had abruptly cut off 100,000+ performers (don't worry this is the CoinDesk link!!!) from using their payments service. Porn has always been a risky business for regulated payments companies to service, and this sort of suspension has plagued smaller players in the past.
But PornHub is not a small player.
It's a top 10 global website. Just behind twitter, and just ahead of Instagram and Wikipedia. The ban amounts to an attack on an entire class of sex workers.
It also does truly open up a massive opportunity for crypto, as literally everyone was quick to point out last night.
Why it matters:
The "bitcoin fixes this" meme is effective, even if it's gotten annoying. It's more than a trite catchphrase though in the realms of porn, pot, and poker (gambling).
Perhaps the only actually interesting crypto applications today are in legally murky, but arguably ethical markets like these.
Areas where you might break the letter of the law, but still hold the moral high ground, and with a good lawyer avoid things like jail, are ripe for crypto innovation. These also happen to be the areas where change can actually happen publicly at much lower risk to those involved.
Yes, you can use bitcoin to evade capital controls, and yes, that may be life-saving and liberating, but it's a rather extreme stakes sort of game that won't be relevant to a huge population.
It's also an easier use case for outsiders and enemies of free speech and free money to attack. "Of course they like bitcoin, it enables tax evasion and money laundering" is an effective line because it boxes proponents into the defensive "well ackshually" camp. There's no effective one-line rebuttal other than "banking is worse."
Much better to save the cam girls!
And point out the absurdities of restricting gambling and marijuana businesses in some states, but not others!
Banking and financial services are extremely sticky. High switching costs and long customer lifetimes. Any time there's a disruption of service that impacts 100k potential crypto power users all at once, I hold out hope that 10% of those impacted will try crypto because it really does solve an acute need. A window of opportunity has opened - slightly and briefly - for a sticky new set of customers.
Time for plan ₿ for sex workers.
And finally:
I make sacrifices for you. Like brazenly opening PornHub in front of my wife this morning to search for the original post and text.
She had…some questions.
***
Thanks for reading and supporting us along the way.
NOW GO TELL YOUR FRIENDS AND BOSSES to…
P.S. Share. Subscribe. Spread the love. Tweet at me or Messari for requests, feedback, comments, or questions
Until tomorrow,
-TBI
---
Messari Compression Algorithm
Content and thoughts from around the web as summarized by the Messari team.
💵 Paxos, a New York based regulated trust company for digital assets, announced today the launch of its Fiat Gateway Solutions and APIs.The solutions provide crypto-native businesses the ability to accept dollar deposits and convert them into stablecoins issued by Paxos for use on their platform. The solutions also allow users to swap stablecoins freely for all stablecoins custodied by Paxos. At launch Paxos will support both Paxos Standard ($PAX) and Binance USD (BUSD) stablecoins.
Why it matters:
Part of what drove Tether's success is that it allowed cryptocurrency exchanges, which have historically had trouble maintaining banking relationships, to outsource custody of fiat currencies to Tether Limited. Tether's existence on public blockchains allows traders and exchanges to efficiently move USD between exchanges using the blockchain as a settlement layer. With it's new Fiat Gateway solution, Paxos may be able to provide this utility more seamlessly, transparently, and effectively.

The announcement marks yet another fiat gateway for Binance, which has been rapidly rolling out fiat-to-crypto exchanges around the world throughout 2019.
📊 Chicago Mercantile Exchange (CME), the largest derivatives exchange in the world, announced options on its Bitcoin futures contract starting January 13th, 2020 pending regulatory review. Each contract is based on one futures contract which is currently worth five bitcoin.
Why It Matters:
The futures contract trades over 30,000 bitcoin per day and the addition of a new hedging instrument gives these clients a new means to hedge their risk.

A more robust derivatives market should improve the price efficiency and liquidity of the underlying spot market, an important step for any regulatory approval on future financial vehicles.
💱In an interview with The Block, Bitfinex CTO Paolo Ardoino discussed the exchange's plans to offer options as soon as Q1 2020. He also mentioned the addition of gold-backed stablecoin, perpetual swaps, and basket futures, although did not disclose any more details.
Why it matters:
As we noted with CME's foray into bitcoin options, more derivative providers will create more ways to hedge price exposure and help create a more efficient market.

In the last two months two gold backed tokens have been announced, Paxos ($PAXG) and CoinShare ($DGLD). The increased availability of gold investments comes at a time of macroeconomic uncertainty where stores of value are likely to be in high demand.
💰Google announced today that it would launch a checking account next year with Citigroup and a credit union at Stanford University. Customers would access the checking account through Google's Google Pay digital wallet, which is on pace to reach 100 million users in 2020. Google believes it can create value for customers through services that could include loyalty programs. The company remains undecided on whether it will charge fees on the accounts.
Why it matters:
The news follows a slew of financial service product announcements and launches from tech giants including Uber Money, Apple's joint card with Goldman Sachs, and Facebook's digital currency project Libra.

Tech giants are among the best positioned for the future of financial services leveraging their massive user bases and global reach to distribute innovative financial products.
Send me the link, your twitter handle and your best imitation compression algorithm write up. If I like it, I'll include your bit next issue (with attribution).
Should your colleagues read daily? We now offer discounts for corporate access. Email us, and we'll onboard your whole team.