Messari's Weekend Reads - Issue #50 😎
reading, sleep, and self-care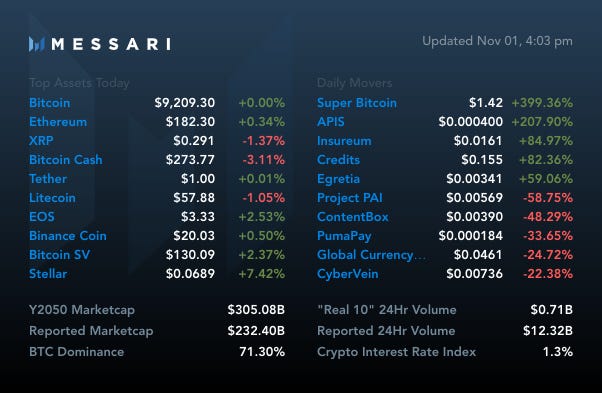 Your daily snapshot from the Messari screener.
The past two weeks have been dominated by discussions around China's blockchain strategy and Facebook's Libra. Right now it looks like China and Libra are going to go head to head to see who can create a global digital currency. The idea of a price-stable digital asset isn't new, but a battle between a tech giant and one of the world's most powerful nations is something worth watching.
Our research team took a look at these competing ideas and how they fit into the stablecoin sector, a space that has been evolving since first introduced in 2014.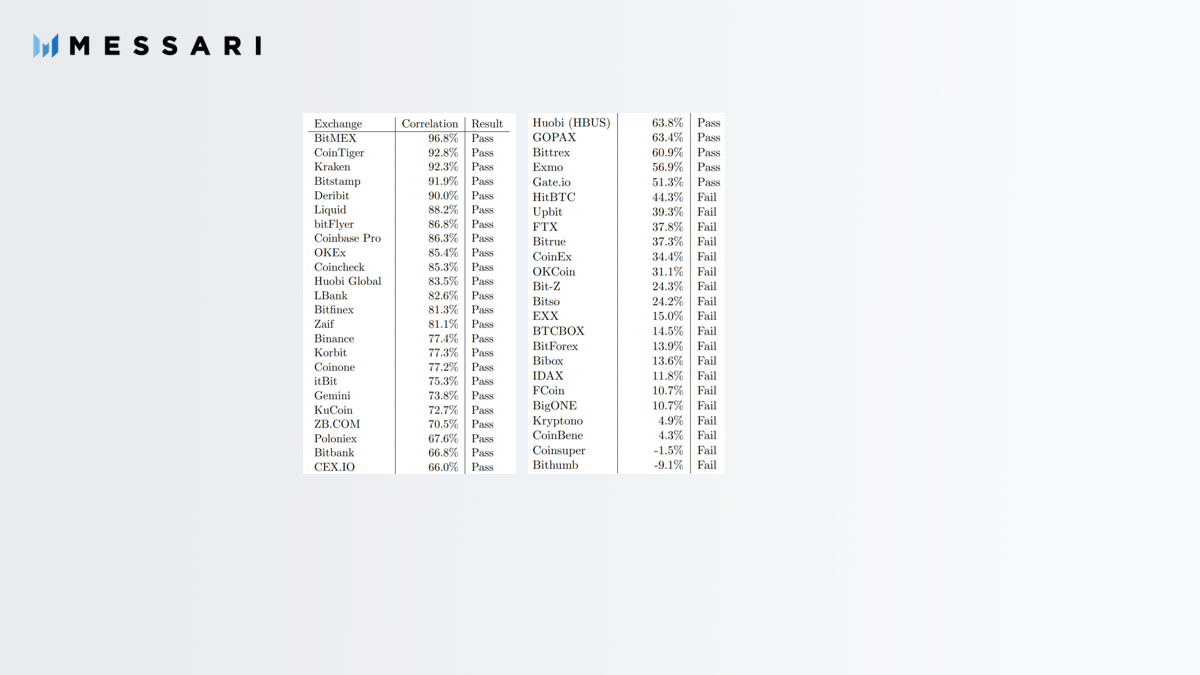 Sign up for Messari Pro and get access to the full report along with new research every week. You'll also get access to our advanced screener and over 100 data points across hundreds of assets. Oh, and we will even give you a seven-day free trial to check out all the features.
Messari's weekend reads:
Have a good weekend y'all.
P.S. Share. Subscribe. Tweet at Messari for feedback, comments, or questions.
---
Messari Compression Algorithm
Content and thoughts from around the web as summarized by the Messari team.
📊 According to a recent SEC filing, Blockstack has hired GSR Markets to provide liquidity for its STX token outside the U.S. Blockstack tokens were recently listed on Binance and institutional focused exchange HashKey Pro. The service, which leverages a proprietary trading bot to facilitate liquidity and provides Blockstack with trading reports, requires a setup fee of $100,000 and a monthly payment of $20,000 for six months.
Why it matters:
Market making services are widely used in traditional markets to provide liquidity to traders looking to enter or exit positions. Yet, in crypto, these services have been considered taboo despite being used by exchanges and token projects.

Blockstack's choice to sell tokens through a regulated offering has given the public a unique view into how tokens are sold and listed on exchanges. Blockstack filings also show the project paid $250,000 for listing on Binance, another norm in traditional markets that has been questioned in crypto.
💶 Feeling competitive pressure from Libra and China, the Association of German Banks, a trade group including Deutsche Bank, Credit Suisse, and Commerzbank, has called for a digital euro, touting the advantages of digital money over conventional payments with a particular appreciation for smart contracts. In a position paper released Wednesday, the Association posits that the monetary system must lie in the hands of sovereign national states and that any privately issued currency must, therefore, fit into the state-determined system. Furthermore, it demands that digital money fit within a uniform supervisory and regulatory framework.
Why it matters:
Since the announcement of Libra, we've seen an influx of interest in cryptocurrencies from monetary incumbents. The CCP's recent entrance into the digital currency sphere further catapulted cryptocurrencies into the spotlight, and world leaders are beginning to take this technology more seriously.

As many in the cryptosphere have suggested, the entrance of incumbent powers may not be uniformly positive for the industry and could represent a direct threat to the original values of the industry.
Did I miss something?
Send me the link, your twitter handle and your best imitation compression algorithm write up. If I like it, I'll include your bit next issue (with attribution).
Should your colleagues read daily? We now offer discounts for corporate access. Email us, and we'll onboard your whole team.