Messari's Weekend Reads - Issue #54 😎
reading, sleep, and self-care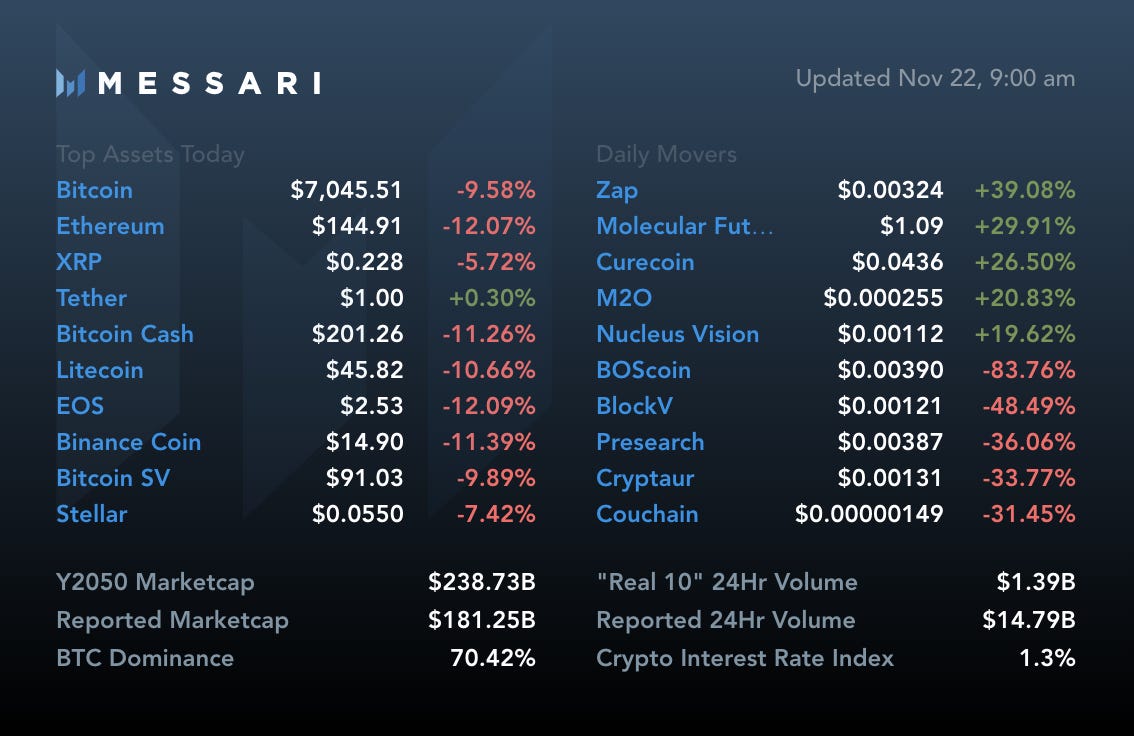 No one said it would be easy.
Less than a month ago, we popped back above $10,000. This morning we saw a price that started with a $6. Rough tumble, but days like these are great for turning off the price feeds, and diving in for some deep learning.
Luckily, Messari has you covered on both fronts. Let's get to our weekend reads!
Weekend Reads:
Your daily snapshot from the Messari screener.
Have a good weekend y'all.
P.S. Share. Subscribe. Tweet at Messari for feedback, comments, or questions.
---
Messari Compression Algorithm
Content and thoughts from around the web as summarized by the Messari team.
♟World Chess, a London-based media company that holds the commercial rights to the World Chess Championship, has announced plans for a "hybrid initial public offering". The plan would entail first raising funds through a security token offering before floating on the London Stock Exchanges' AIM market in 2020. According to World Chess CEO, Ilya Merenzo, the offering is set to launch next week where the company will raise "in the low numbers of millions of dollars" selling around 4 to 6 percent of the company. The security tokens will launch on Algorand ($ALGO) and will be convertible into potentially more liquid shares when the Aim listing has taken place. Merenzon stated that the majority of the funds raised will go towards developing chess as an Esport.
Why it matters:
Security tokens were all the hype after the collapse of the ICO market in 2018. The idea that the industry would migrate towards more regulatory compliant token offerings appeared obvious. Yet, security tokens have failed to gain any meaningful traction to date. Plans like this, if executed successfully, may be able to provide a counter to this narrative.

The offering marks the first security token to be issued on the Algorand blockchain. Algorand now joins an emerging competition to become the dominant blockchain for security token offerings. The Tezos Foundation in partnership with Overstock's tZERO ($TZROP) recently announced a plan to tokenize up to £500 million ($643 million) of U.K. real estate financed by Alliance Investments. The tokens will be issued on the Tezos ($XTZ) blockchain.
🇮🇳 According to an announcement from the company, Binance users will soon be able to buy and sell crypto with Indian rupees (INR) through the Binance Fiat Gateway after the company acquired Indian crypto exchange WazirX. The plan is to integrate WazirX's unique auto-matching engine with the Binance Fiat Gateway in Q1 of 2020 allowing all digital assets on Binance to be available with the purchase of $USDT on the WazirX platform.
Why it matters:
This acquisition marks another effort from Binance to move into fiat to crypto markets as they have in Uganda, Jersey, Singapore, and more recently the U.S.

Last April, the Reserve Bank of India issued a notice asking banks to stop dealing with cryptocurrency businesses. This made it difficult for many exchanges to operate and led to many shutting down. Binance has extensive experience entering new markets and believes they will be able to scale their business in India.
Did I miss something?
Send me the link, your twitter handle and your best imitation compression algorithm write up. If I like it, I'll include your bit next issue (with attribution).
Should your colleagues read daily? We now offer discounts for corporate access. Email us, and we'll onboard your whole team.