Messari's Weekend Reads 😎 - Unqualified Opinions
self care, sleep, good content, and OUR NEW HOME PAGE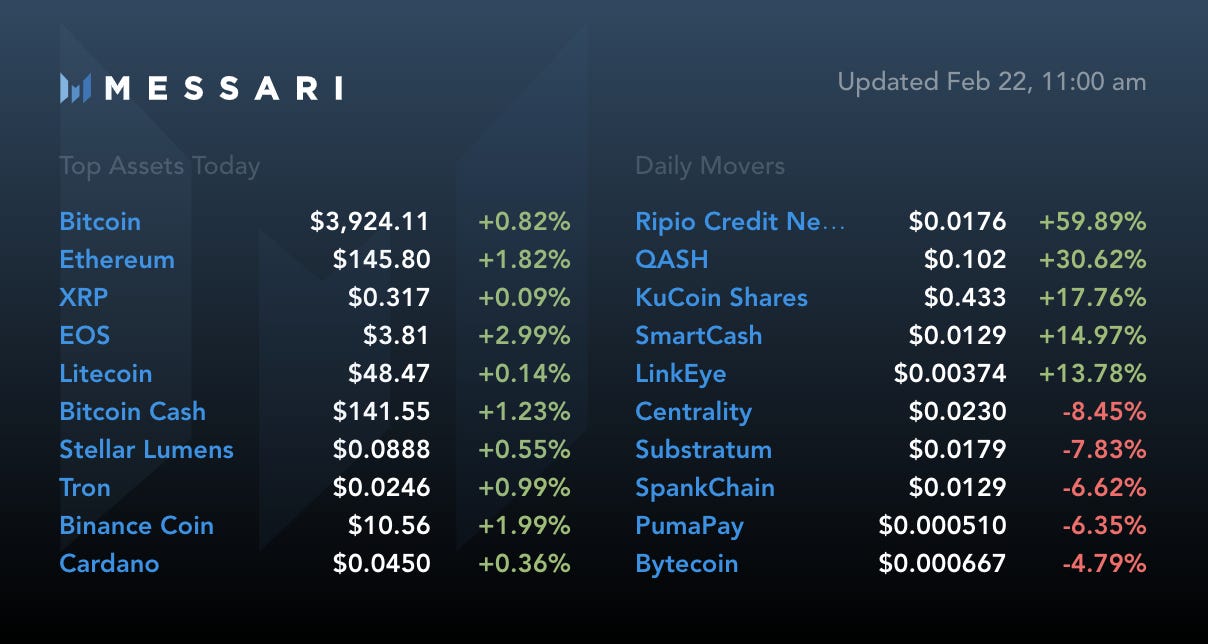 Your daily snapshot from our OnChainFX markets dashboard.
Missing the daily dose of crypto? This week our subscribers got a valuation and quant heavy week with looks at BNB valuation and the use of Sharpe ratio in crypto.
For $5 / week, you can cut through the noise, and stay smarter than your friends.
It's Friday!
That means we're keeping things light with some weekend reads and a brand new skin to highlight the breadth of information available at https://messari.io/.
It's going to be a fun March: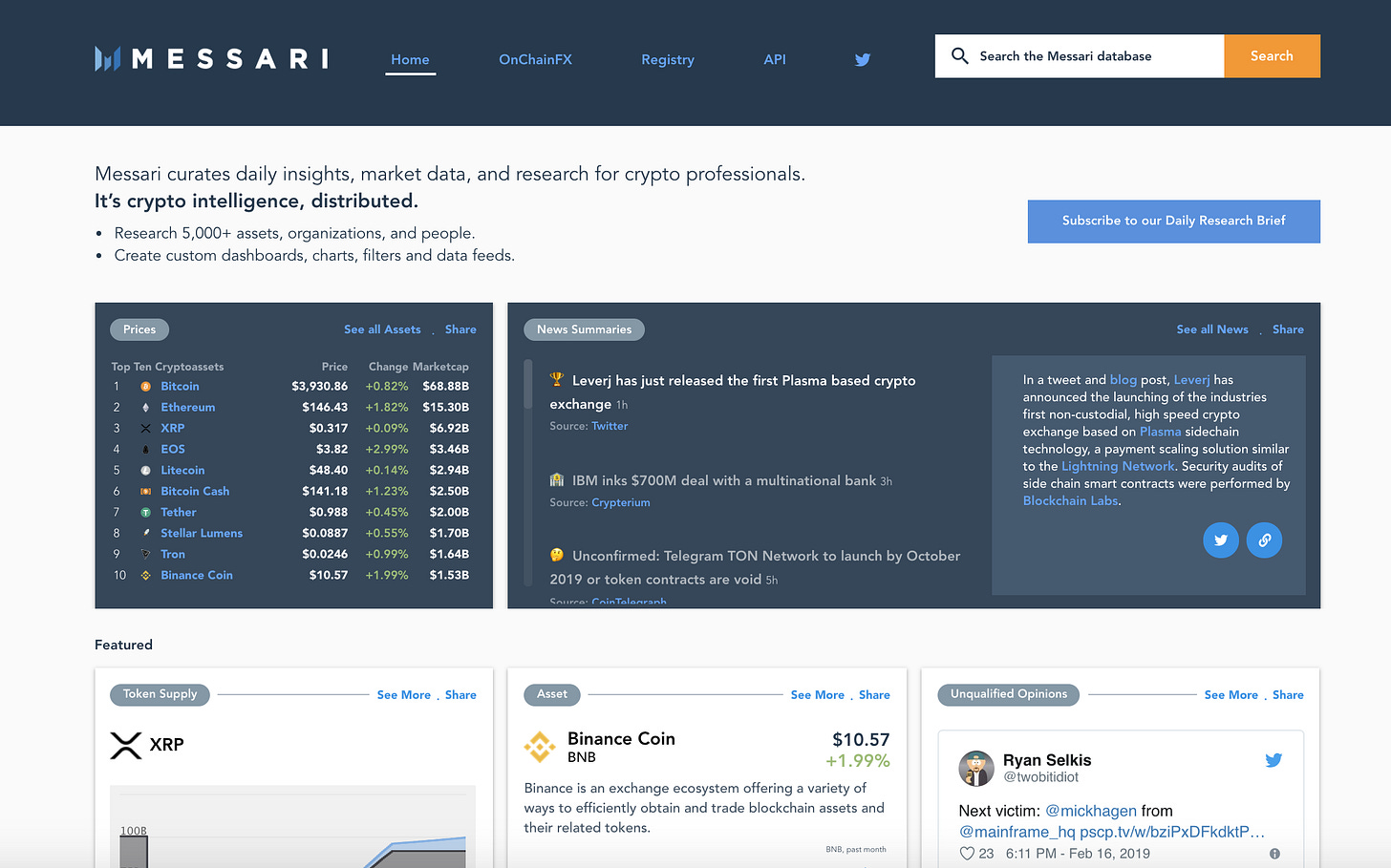 Want to see the rest?
Check it out, and let us know how we're doing!
Will share more details around Messari's new look and feel on Monday. :)
📚 Messari's weekend reads:
Have a good weekend, y'all.
- The Messari Team
P.S. Share. Subscribe. Tweet at Messari for feedback, comments, or questions.
---
Messari Compression Algorithm
Content and thoughts from around the web as summarized by the Messari team.
⚔️ [Analysis] Interest rates are the next battleground in the stablecoin wars - Hasu
Hasu believes stablecoin issuers like Tether and Circle's USDC will soon feel the pressure to pay out interest on deposits. Major stablecoins currently hold $2.67 billion which could earn $67.5 million at an 2.5% interest rate. The good days may be shortlived, though. As traditional banks begin offering interest to customers again, it will place pressure on stablecoin issuers to follow suit. Which projects will blink first and compete on interest sharing? (share or read more)
🛡️ [Analysis] Is Polkadot really a threat to Ethereum? - Trust Nodes
Questions concerning Ethereum ($ETH) and up-and-comer Polkadot, a scalability and interoperability protocol, are ruffling feathers amongst the two communities. Regardless of Polkadot's late 2019 expected launch (and plans to bridge the two ecosystems), developers and advocates on both sides are lobbing more bombs across the aisle. Things have grown so contentious, that a prominent Ethereum developer, Parity's Afri Schoedon, quit his contributions to the project after intense online harassment. Ethereum and Polkadot share key infrastructure but deviate on a number of governance and technical issues. (share or read more)
Quick Bits (Don't read that, I read it for you)
Choke Points (Exchange News)
🏆 In a tweet and blog post, Leverj has announced the launching of the industries first non-custodial, high speed crypto exchange based on Plasma sidechain technology, a payment scaling solution similar to the Lightning Network. Security audits of side chain smart contracts were performed by Blockchain Labs. (share or read more)

📩 Defunct crypto exchange QuadrigaCX has sent almost the entirety of its hot wallet content to the court appointed monitor, Ernst & Young. The wallets held only 52 Bitcoin ($BTC), 960 Ether ($ETH), 33 Bitcoin Cash ($BCH), 2,000 Bitcoin Gold ($BTG), and 822 Litecoin ($LTC). Remaining funds in the hot wallet amount to less than 0.5 BTC. (share or read more)
Startup Signals (ICOs, Cryptos, and Startups)
💸 Pantera Capital has almost completed its third crypto fundraising round, raising $125 million of the expected $175 million. Although funds have slowed since August due to market conditions, Pantera expects to finish the round by March. The third fund will focus more on equity positions and hopes to invest in 30-50 companies. By comparison, the first two funds invested in a total of 44 together. (share or read more)

🔌 The Zcash Company has officially changed its name to the Electric Coin Company to for sake of clarity. Legally, the full name was the Zerocoin Electric Coin Company, LLC, meaning Zcash Company really only removed 'Zerocoin' from its title. The company is making no changes related to structure or business in relation to the name change. (share or read more)

🇧🇷 Brazil's largest standalone investment bank, BTG Pactual, is launching its own security token based on real estate assets. The token should be purchasable internationally via the dollar-backed stablecoin Gemini ($GUSD) or Ether ($ETH) and annual dividends are expected at 15-20% in terms of Brazilian currency. BTG Pactual expects to raise $15 million in an initial offering. (share or read more)
Did I miss something?
Send me the link, your twitter handle and your best imitation compression algorithm write up. If I like it, I'll include your bit next issue (with attribution).
Should your colleagues read daily? We now offer discounts for corporate access. Email us, and we'll onboard your whole team.