Ripple's Tax Shelter & XRP Schemes
the $1.2 billion affiliated foundation made $0 in grants in 2018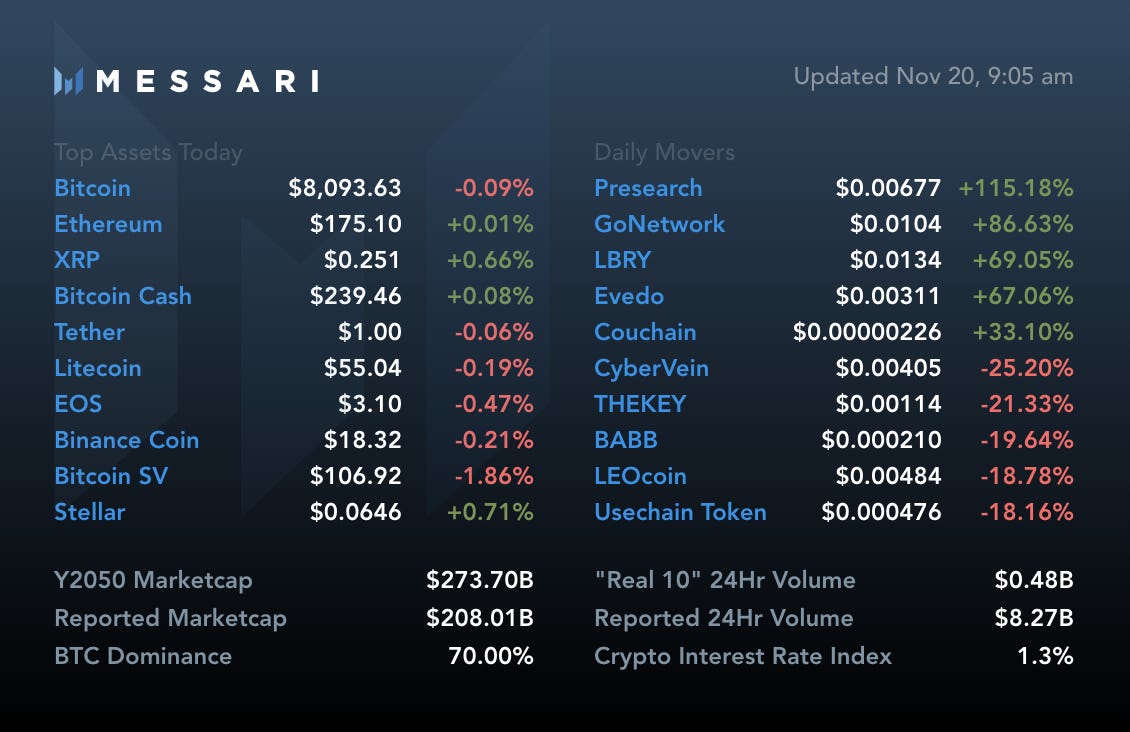 Your daily snapshot from our Messari screener.
Ripple's Tax Shelter & XRP Schemes
I've had this one in the back pocket for a couple of weeks, but didn't really have the energy to publish it and then deal with the wrath of the XRP army again. Until now.
We'll go for a two-fer today since Elliptic just released a report tying $400 million of illicit activity to XRP (vs. $829 million for bitcoin).
In other words, for all that centralization, corporate treasury shenanigans, and silver-tongued bullshit, you're still getting a network that is pound for pound "shadier" than bitcoin, despite what Ripple execs might have regulators believe.
This isn't the company's fault, of course. I'm not suggesting Brad Garlinghouse is personally laundering $400 million himself.
Of course not. That would be silly and probably wrong.
What the company is doing with its affiliated foundation may actually be worse, though: using that vehicle as a corporate and executive tax shelter; not dispensing grants to charities (that would actually lead to XRP sales from its treasury and depress the price for company and insider liquidations!); and ultimately obfuscating the fact that 2.2 billion XRP it counts as "circulating supply" is currently locked in long-term restricted selling agreements.
It's part of the hidden inflation and massive supply overhang in the XRP market we wrote about at length earlier this year.
According to the Foundation's (public) Form 990, during its fiscal year 2018 (year ended April 30, 2018), the Ripple Foundation for Financial Innovation (nee RippleWorks), the entity affiliated with Ripple and its co-founder Chris Larsen, granted exactly $0 to other charities out of a staggering $1.2 billion AUM.
[And by the way, that AUM figure includes a 40% illiquidity discount on the 2.2 billion XRP on its balance sheet at the time. While the price of XRP has dropped, the Foundation's XRP balance has likely grown significantly since then.]
At the same time, the Ripple Foundation did pay its CEO a $665,000 salary, while investing $30 million in Michael Arrington's XRP Capital. Arrington, of course, is a personal friend of Ripple CEO Brad Garlinghouse.
Again, nothing wrong with spreading your wealth around and managing this warchest for the long-term! Per se!
But there is a problem when actual charities are getting less out of the Foundation than the insiders at Ripple. The company donated $174mm to the Foundation in 2018 - likely using that as a perfectly legal writeoff for a non-cash donation of property that the company - *smashing keyboard* - created out of thin air.

And then none of it actually went to charity! Check line 25: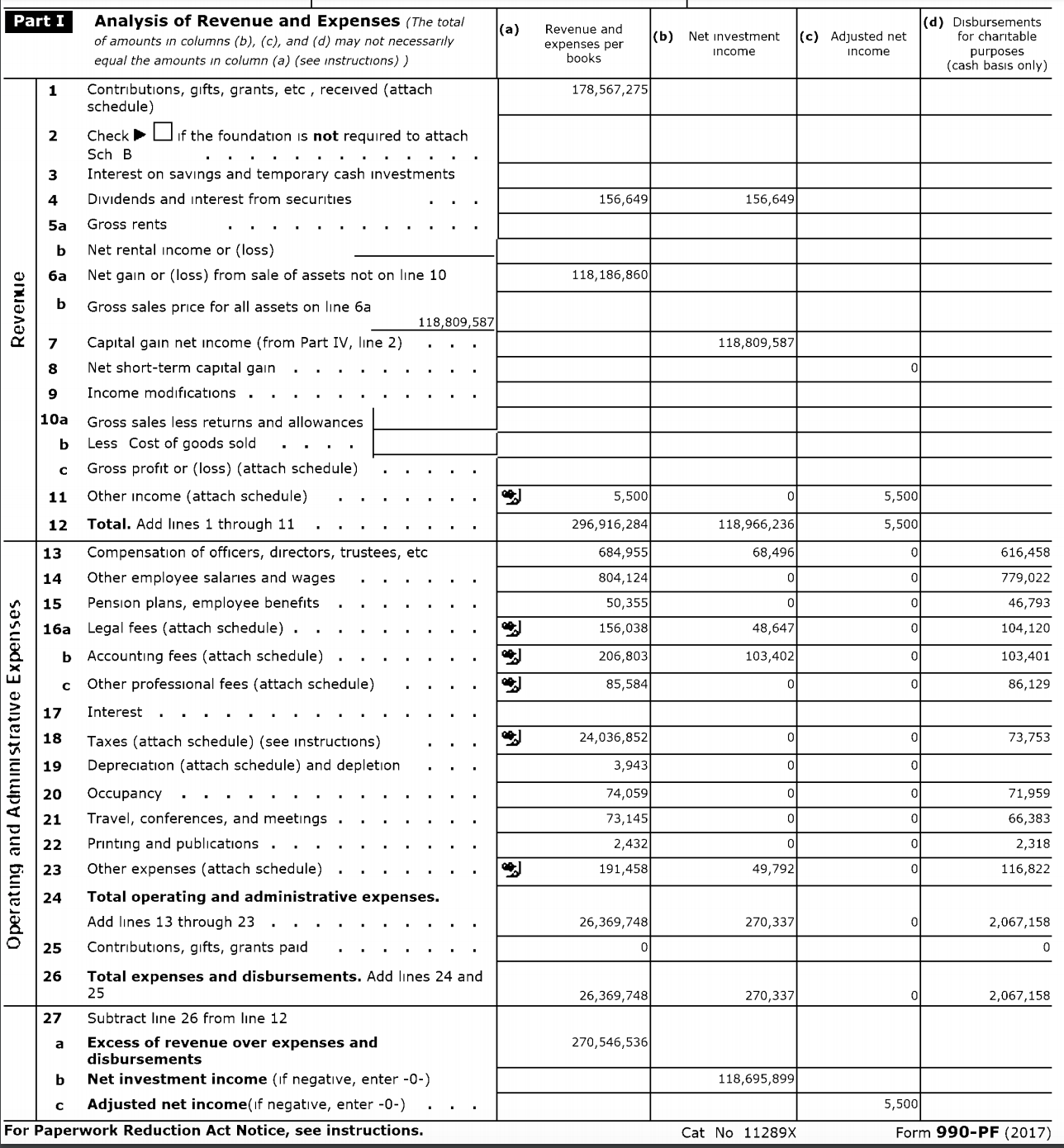 I'm not even mad anymore.
These guys are amazing and nobody cares.
-TBI
---
Messari Compression Algorithm
Content and thoughts from around the web as summarized by the Messari team.
🐂 Bison Trails, a New York based blockchain infrastructure-as-a-service startup, announced today that it raised $25.5 million in a Series A. The round was led by Blockchain Capital with participation from Kleiner Perkins, Coinbase, Consensys, and Galaxy Digital, among others. The round follows Bison Trails' $5.3 million raise last November, bringing its total funding to date to $31 million. According to Joe Lallouz, CEO of Bison Trails, the company plans to use the proceeds of the fundraise to expand its offerings as well as to develop a new network roadmap for several projects, including Libra, Telegram, Skale, and Polkadot.
Why it matters:
It's been a hot week of funding for cryptocurrency startups. The round follows recent announcements of Compound's $25 million Series A led by a16z crypto and Messari's $4 million raise led by Uncork Capital.

Bison Trails is one of the 21 founding members of the Libra Association. According to Lallouz, Bison Trails is actively working with founding members to move the Libra project forward, from testnet to mainnet launch.

Bison Trails is one of the few startups that exists in contrast to staking-as-a-service providers that risk centralizing blockchain validation and governance with large organizations like exchanges. Bison Trails makes it easy for clients to run node infrastructure on the proof-of-stake networks they support without exposing clients' private keys or having access to moving tokens.
♊️ In its first acquisition, crypto exchange Gemini purchased startup Nifty Gateway for an undisclosed amount. Founded in 2018, Nifty Gateway lets customers buy non-fungible tokens (NFTs, or colloquially "nifties") like CryptoKitties or Gods Unchained collectibles with a credit card. Gemini founders Tyler and Cameron Winklevoss acquired the young company because they believe "the market for nifties will be as big as the collectibles, art and gaming markets combined."
Why it matters:
NFTs are attracting more attention as of late. Aside from this acquisition, Gods Unchained made headlines a week ago when demand for the Ethereum-based game's trading cards set a new record (beating the previous record by a factor of five) for on-chain ERC-721 token transfers.

This acquisition is fitting for the Winklevoss twins, as the two have consistently pushed for better access and interfaces to cryptoassets and related use cases. In addition to their crypto onramp (i.e., Gemini), other initiatives include their efforts to establish a Bitcoin ETF, the creation of a dollar-backed stablecoin ($GUSD), and Gemini integration into Flexa's Spedn application, with varying degrees of success.
Should your colleagues read daily? We now offer discounts for corporate access. Email us, and we'll onboard your whole team.