Sympathy for the SEC - Unqualified Opinions #27
setting standards is hard work
Messari's Unqualified Opinions issue #27
TLDR
We're proud to support a number of leading global policy and self-regulatory initiatives, including the recently announced Global Digital Finance group. Policy and smart data aggregation are two sides of the same self-regulatory coin. We're investing in experts to promote smart crypto policy, and building the data aggregation tools ourselves.
Sympathy for the SEC
Messari is proud to support and advise Global Digital Finance, who announced yesterday an industry-wide code of conduct for crypto companies, as well as a stellar group of founding members. The group brings an excellent team to (hopefully) reconcile the growing set of global self-regulatory initiatives in crypto.
Self-regulation is a loaded term. Standards setting is hard work, and it can lead to unnecessary "forks" when people accidentally create more problems than they solve.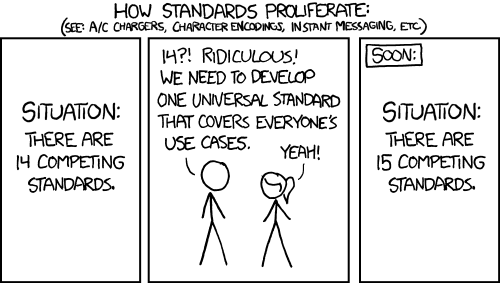 It's this type of thing that we want to help prevent, which is why we're proud to support existing, high-impact efforts like GDF, Coin Center, and the Blockchain Association. No need to go it alone, or reinvent the wheel.
In fact, it can be counter-productive.
If crypto is going to grow and give the legacy financial system a run for its money, we must figure out how to protect investors and ensure market integrity along the way. The old approaches may not make sense for a number of reasons, but if we are to do better, we must understand where disconnects are coming from in the first place.
That starts with speaking the same language.
There are three core problems that make life difficult for the SEC and others: crypto assets are poorly defined, the industry is evolving rapidly (meaning that even good definitions quickly get stale or irrelevant), and value can hop across jurisdictions (with different definitions and standards) as easily as a Facebook post.
Many of these problems stem from open source code, where anyone with an internet connection can copy, modify, and share the core aspects of a computer program.
A protocol for preventing spam emails turns into digital currency, which evolves into a new distributed computing platform, which then becomes an application to explore new kinds of capital formation, and finally gives birth to the world's first cryptokitty.
If you're a technologist, this Cambrian explosion of innovation is exciting! If you're a government lawyer, you can't help but notice we crossed a dozen regulatory boundaries in the preceding paragraph alone.
The problem is that, while the vast majority of regulators genuinely care about protecting consumers and promoting innovation, how that is ensured is often constrained by antiquated legal mandates. Big regulatory updates get passed every few decades, while crypto seems to spawn unique technical innovations (with new regulatory implications) every few weeks.
The disconnect means new ideas will continue to challenge old jurisdictional lines, even within the relatively narrow confines of the US Federal Government.
These challenges, combined with the cross-border nature of the asset class, mean that regulatory arbitrage is a real threat in ways not previously possible. It's clear that something has to give. That's the bad news.
The good news is that crypto presents entirely new opportunities for transparency and investor protection.
Professionally run crypto projects are far more transparent than their counterparts in the financial and tech industries. Even if that openness isn't expressed in 10-Ks or on analyst calls, it's instead hashed out in quasi-real time on Twitter, Telegram, Reddit, and many other platforms immediately recognizable to consumers and perfectly opaque to outsiders.
That doesn't make self-regulation any easier, though.
These new crypto standards and self-regulatory bodies are important in that they create common sense, industry-driven guidelines for the crypto economy. Light guidelines, and community research and data aggregation can go a long way towards keeping the crypto markets safe, ethical, and nimble.
We're feverishly working on the research and data piece, and are thrilled at the quality of teams working on the policy guidelines.
The period of regulatory ignorance with respect to crypto is largely over, and the leaders of these agencies aren't trying to fight the industry any more. The next step is educating them, setting exemplary standards ourselves, and getting them to join us in embracing this new technology.
Then we'll win.
P.S. Share. Subscribe. Spread the love. Tweet at me or Messari for feedback, comments, or (more?) questions.
---
News & Analyses

Messari Compression Algorithm
Content and thoughts from around the web as summarized by the Messari team.
🦖 [Analysis] The evolving role of crypto investors – Tushar Jain
The best way to capture alpha as an investor is to create it. In the case of crypto investors and funds, many services can be provided to create alpha for their portfolios:
Help crypto networks bootstrap network effects by contributing to the network (ex. create supply)

Provide liquidity to the network token

Help contribute to the governance of the network (ex. actively vote)
This requires a combo of capital, technical ability, and understanding of how these networks function. Crypto investors who typically invest in protocols will find it's a best practice to also set aside capital for supporting the network. (Messari | Source)
🔑 [Analysis] What does having true digital ownership mean? – Matt Condon
The real innovations of blockchain and decentralized consensus, are true ownership of digital things and truly scarce digital things. The way the current digital world works is as though we were ok with owning houses exclusively based on the promises of a homeowners association; we don't actually own our data on most sites we use. True digital ownership gives control back to the owner and changes the rules of the internet. One can now prove digital scarcity, break through the walled gardens of third-party services, increase interoperability between systems, and control one's data. (Messari | Source)

Quick Bits (Don't read that, I read it for you)
Choke Points (Exchange News)
🇻🇪 Venezuela's state-backed cryptocurrency, the Petro, is now available for purchase for fiat and crypto. Petros can be purchased directly from the country's treasury and are trading on six government-authorized exchanges: Bancar, Afx Trade, Cave Blockchain, Amberes Coin, Cryptia. (Source | Messari)
Startup Signals (ICOs, Cryptos, and Startups)
🚀 Blockchain venture production studio ConsenSys has acquired the pioneering space company Planetary Resources. Founded in 2012, Planetary Resources aims to mine asteroids to "expand Earth's natural resource base." (Messari | Source)

Parity Technologies has partnered with the Zcash Foundation to build the first alternative client for Zcash. Having an independent node implementation will provide more options for miners and users, Zcash Foundation executive director Josh Cincinnati said. (Messari | Source)
The Powers That Be (Legal/Reg/Policy)
🌍 Global Digital Finance (GDF) has released a code of conduct and taxonomy for the cryptoasset industry. The group, which counts Circle, Coinbase, ConsenSys, DLA Piper, Diginex, Hogan Lovells and R3 as founding members, completed a 60 day consultation period earlier this year where it received input from more than 200 firms (including Messari) on best practices for the industry. (Source | Messari)

👨‍⚖️ A 21-year-old bitcoin trader from California has pleaded guilty to operating an unlicensed money transmission business. According to a news release issued Monday by the Attorney's Office of the Southern District of California, the trader, Jacob Burrell Campos, reportedly sold hundreds of thousands of dollars in bitcoin to over 1,000 customers throughout the U.S. from January 2015 to April 2016. (Source | Messari)
Did I miss something?
Send me the link, your twitter handle and your best imitation compression algorithm write up. If I like it, I'll include your bit next issue (with attribution).
---
Community Updates
Podcast Recap
🎧 Don't miss the latest episode of the Messari podcast out! On this pod, Katherine breaks down the latest arbitration case to come out of China's Shenzhen International Court of Arbitration, which determined bitcoin is protected under China's existing property laws. Additionally, Zack interviews Samson Mow of Blocksteam about sidechains: what they are, what Liquid is, and how its release can impact the average crypto investor. (13 minutes long for your evening commute.) Listen and subscribe— on Apple Podcasts here, Spotify here, and Google play here.

Some other great episodes are #10 (Spencer Bogart on fund performance and tokenization), #9 (Tony Sheng on his writing proecess), #6 (Jake Chervinsky's primer on federal & State crypto regulators), #4 (Nic Carter on data integrity in crypto), and #8 (Conversations on the ground at CryptoSprings).
Find our podcast series on Apple here, Google Play here, and Spotify here.

Shameless Plugs
We want your feedback!
We know Messari can feel like a couple different products right now, and we're working to unify our features into one overarching whole. To that end, We've made a Trello board to take in any and all of the feedback you have for us! Have at it 🛠
We're Hiring:
We're looking for engineers who want to bring transparency to crypto!

Join a fast growing team in NYC; work with crypto OGs, and former Bloomberg/Palantir engineers; and access a network that will set you up for the rest of your career. Apply here!
Upcoming Travel:
Hit us up in these locations:

DevCon, Prague, Czech Republic October 30–November 2, 2018.
Join Our Community:
If you are interested in helping us crowdsource token project details, or want to join our community to share your expertise, wed love to have you on board! Take a second to fill out an application and we will get back to you soon.

Going forward, we'll be capping new members at 15 each week to keep things running smoothly. If you haven't heard back, you are probably in the queue.


Like what you read? Share it! Hate what you read? Let me know @MessariCrypto.