Discover more from Messari's Unqualified Opinions
Stay ahead of the crypto curve with our daily newsletter and weekly interactive analyst podcast. Plus gain early access to our analyst chat, and upcoming product releases.
Over 13,000 subscribers
The Race to Zero
Berlin Blockchain Week & Currency Wars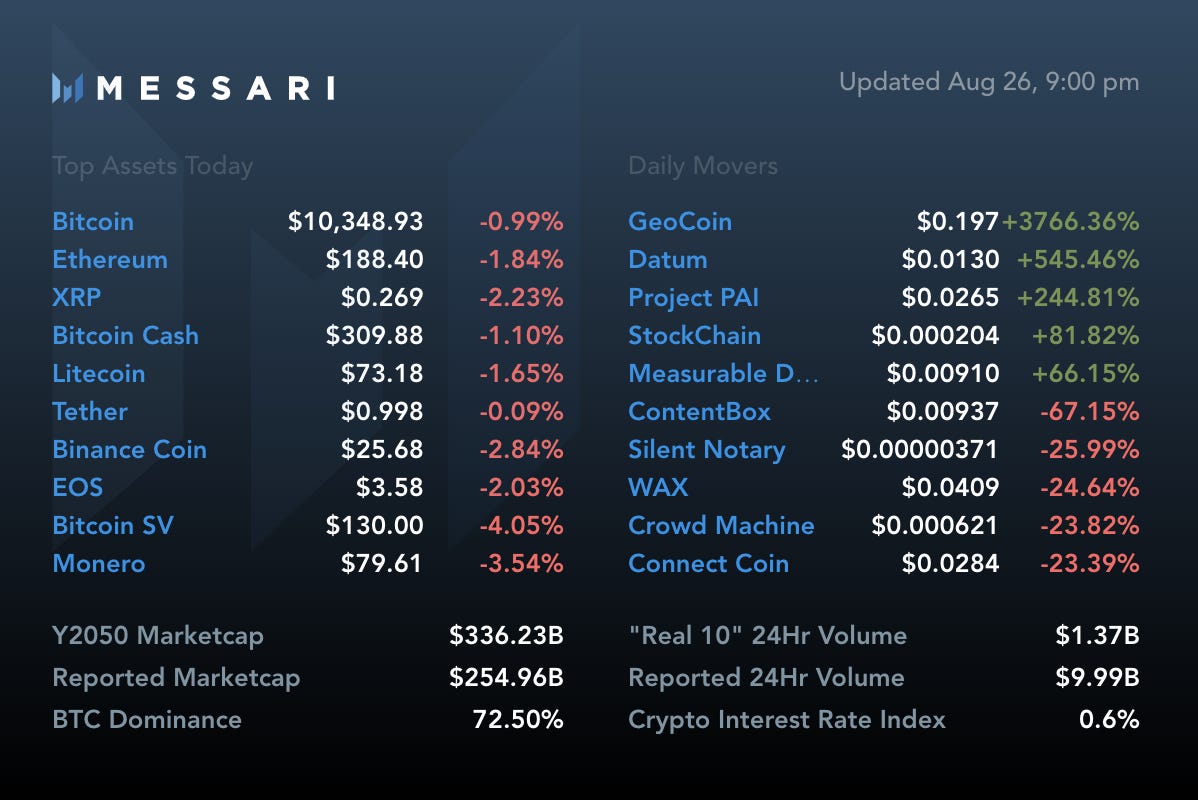 Your daily snapshot from our OnChainFX markets dashboard.
Berlin Blockchain Week & Currency Wars - TBI
Aside from a shitty little fever last week, I had a mostly good time in Berlin at the Web 3 Summit, Dappcon, and ETHBerlin as part of Berlin Blockchain Week.
Across dozens of meetings, a couple of lively dinner and drinks discussions, and four speaking slots here was the big takeaway I had (and presented):
tl; dr: I can't grok who is planning to use all of these shiny new smart contract protocols. Almost no one is using existing dapps, and those who are (in a modest capacity) are leveraging ETH's monetary premium to load up on "DeFi" apps - things like Compound, dydx, and, of course, Maker.
To make matters worse, I'm having a tough time convincing myself that smart contract platform alternatives will be able to build communities as their stakeholders get their collective faces blown off as investors.
Most people don't like losing money relentlessly, especially if those losses are coming at the hands of the the founding teams and early investors in the protocols they are contributing to. Yet that's what I fear is about to happen.
We can see what's already happened with the "crypto-currency" comps in recent months in the face of persistent sell-side pressure, and it's no bueno.
XRP is "only" down 70% vs. BTC in the past 18 months, making it the best performer of this high-inflation comp set: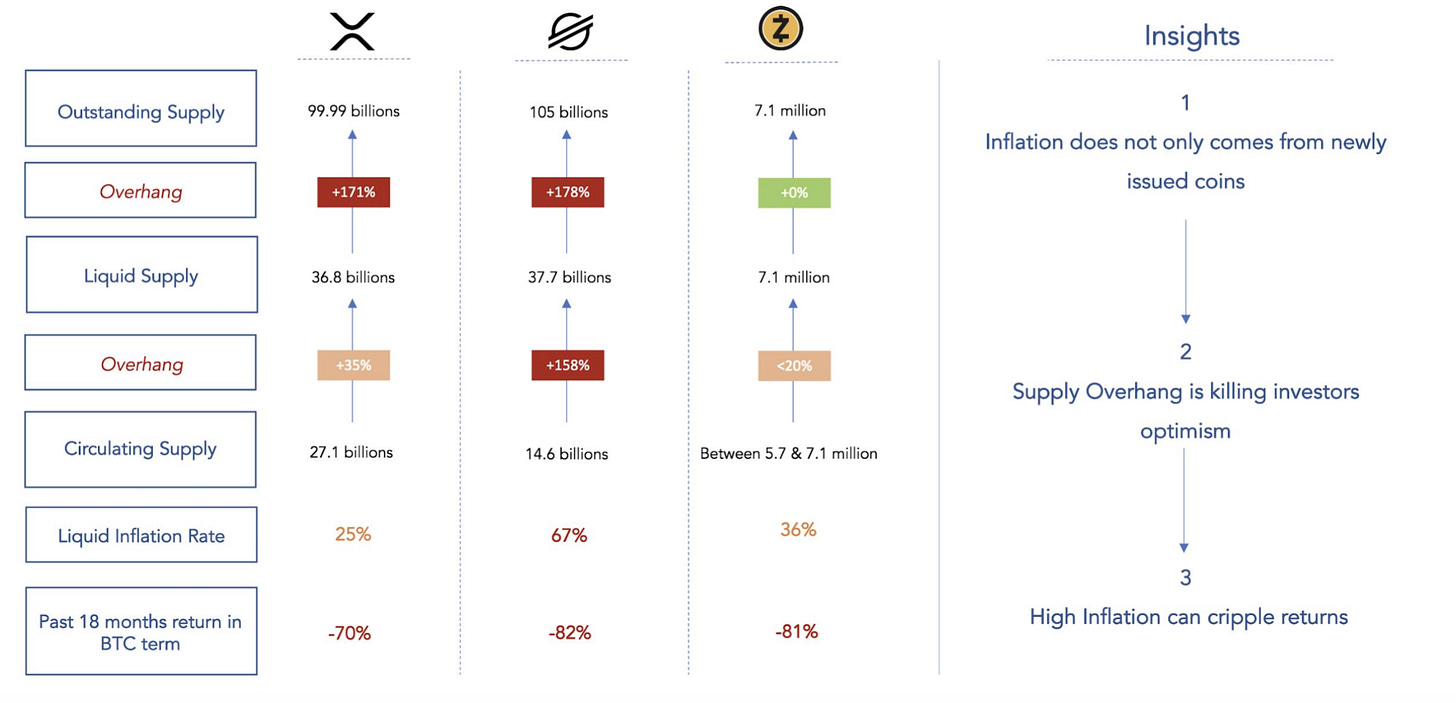 What insights might this provide about yet-to-be-released platform tokens?
For one thing, they have a *lot* of selling pressure to overcome to avoid similar fates. In fact, about 3-4x as much selling pressure as our "currency" comps above.
Between Filecoin, Polkadot, and Telegram some $2 billion in investor SAFTs will come liquid at the same time an additional $2 billion+ in founders and foundation assets (at least on paper) will begin to unlock for resale.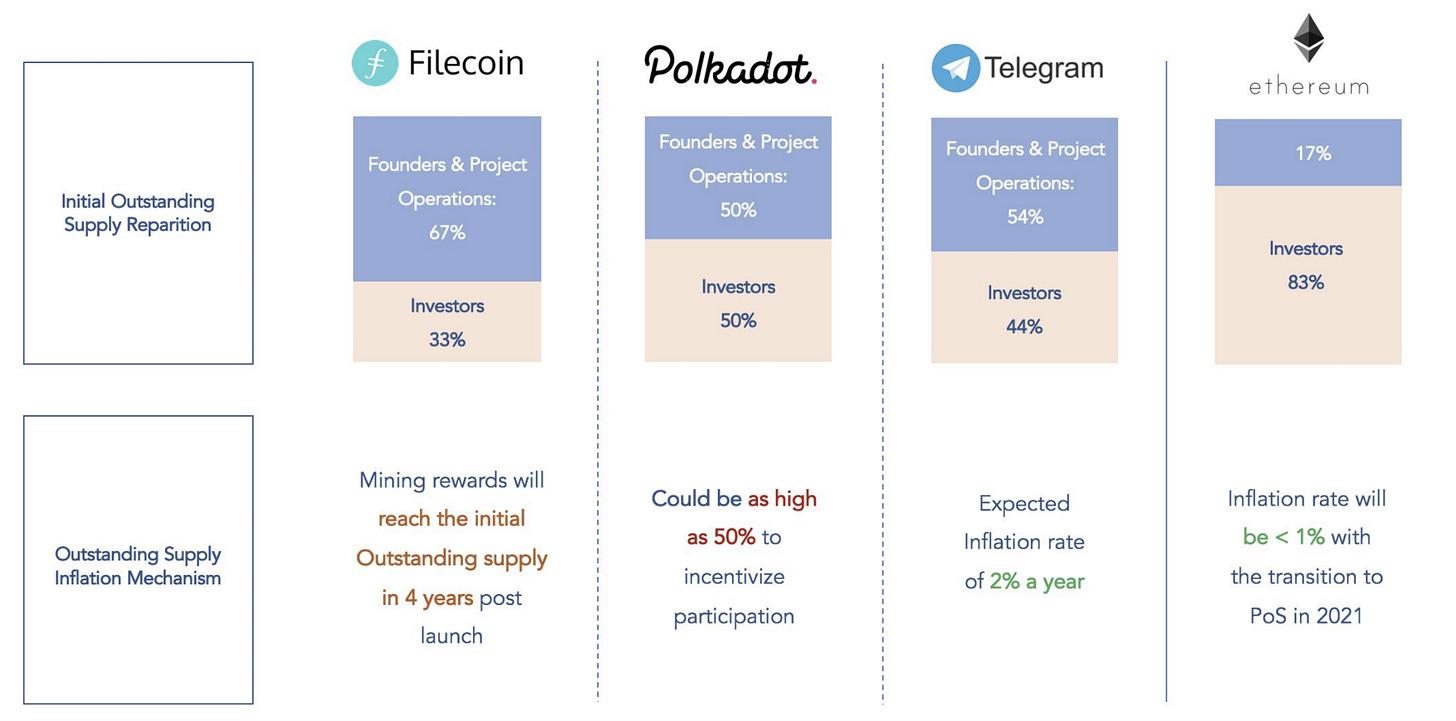 That's a lot of aggregate selling pressure, especially compared to the ~$500mm in anticipated inflation for Ethereum next year.
Outside of crypto, NLW breaks down the much larger "Game of Coins" taking place internationally, as central banks rush to debase their currencies and race to the bottom on debt yields and forex strength.
It makes the selling pressure of platform tokens seem quaint.
Inflation / net selling pressure continues to be something we believe is wildly mis-priced and under-appreciated in a market driven by sentiment, but constrained by weak organic demand for non-bitcoin assets.
We'll keep banging the drum on the topic until that changes.
-TBI
P.S. Share. Subscribe. Spread the love. Tweet at me or Messari for requests, feedback, comments, or questions.
---
Best of the Boards
This week we are highlighting some of the best user generated boards from the past week. Build your own, tweet it, and tag us us for a chance to be featured next week!
Narrative Watch: Game Of Coins [August 26, 2019] - @nlw
Dive deeper on this weeks narrative watch with a collection of content from NLW including all the tweets, articles, and blogs about the new global monetary system in the digital age.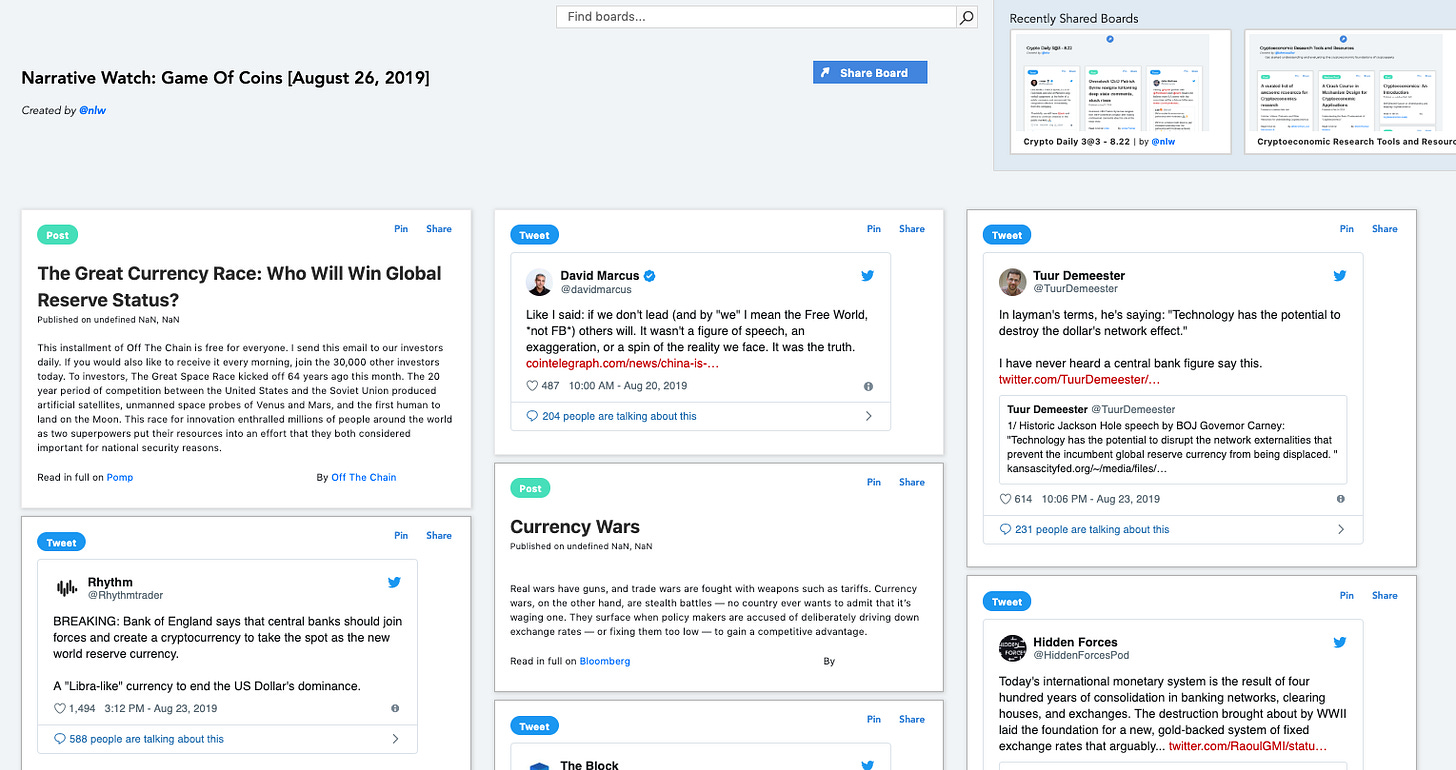 Proof of Work resources - @anambroid
This board aggregates a range of data sources, articles and resources regarding the economy and economics of PoW.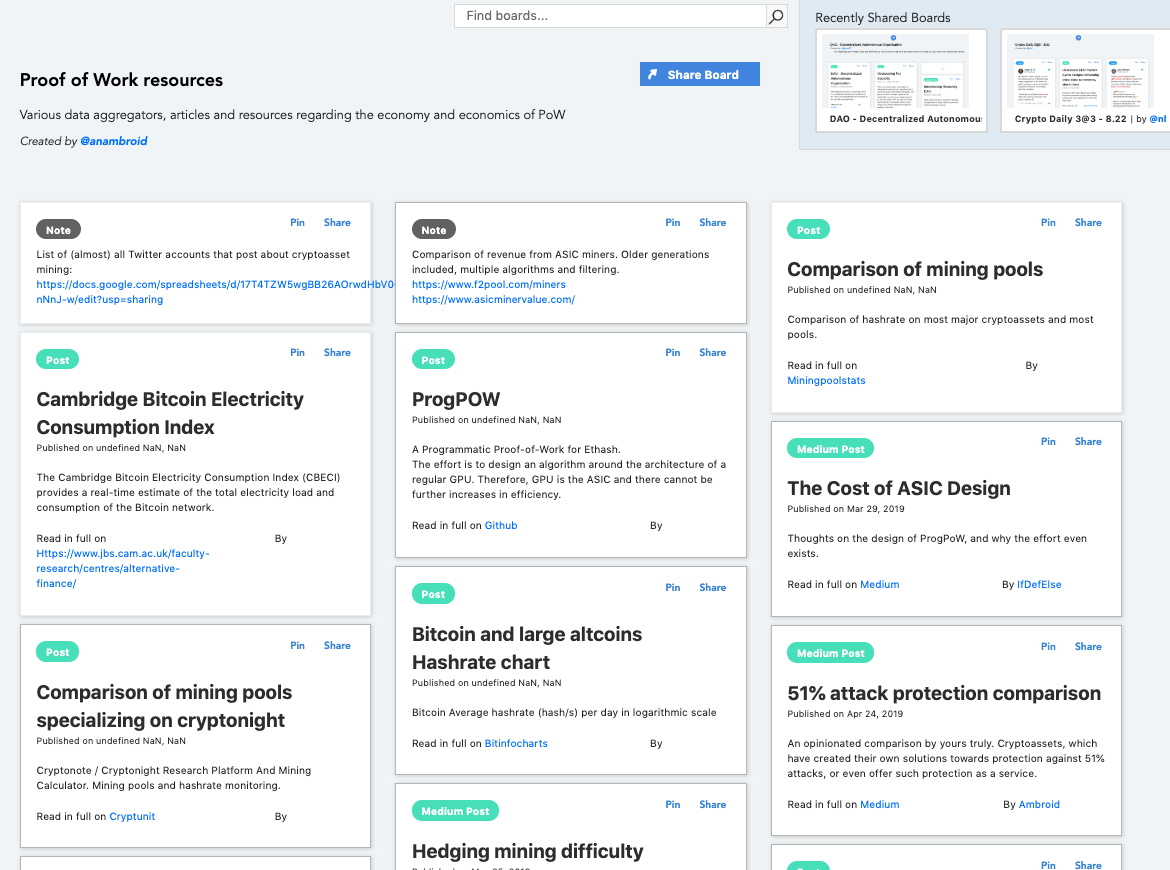 Every week we host an AMA with one of the projects on the Messari Registry. Keep track of all the conversations with this board that features links to all the transcripts.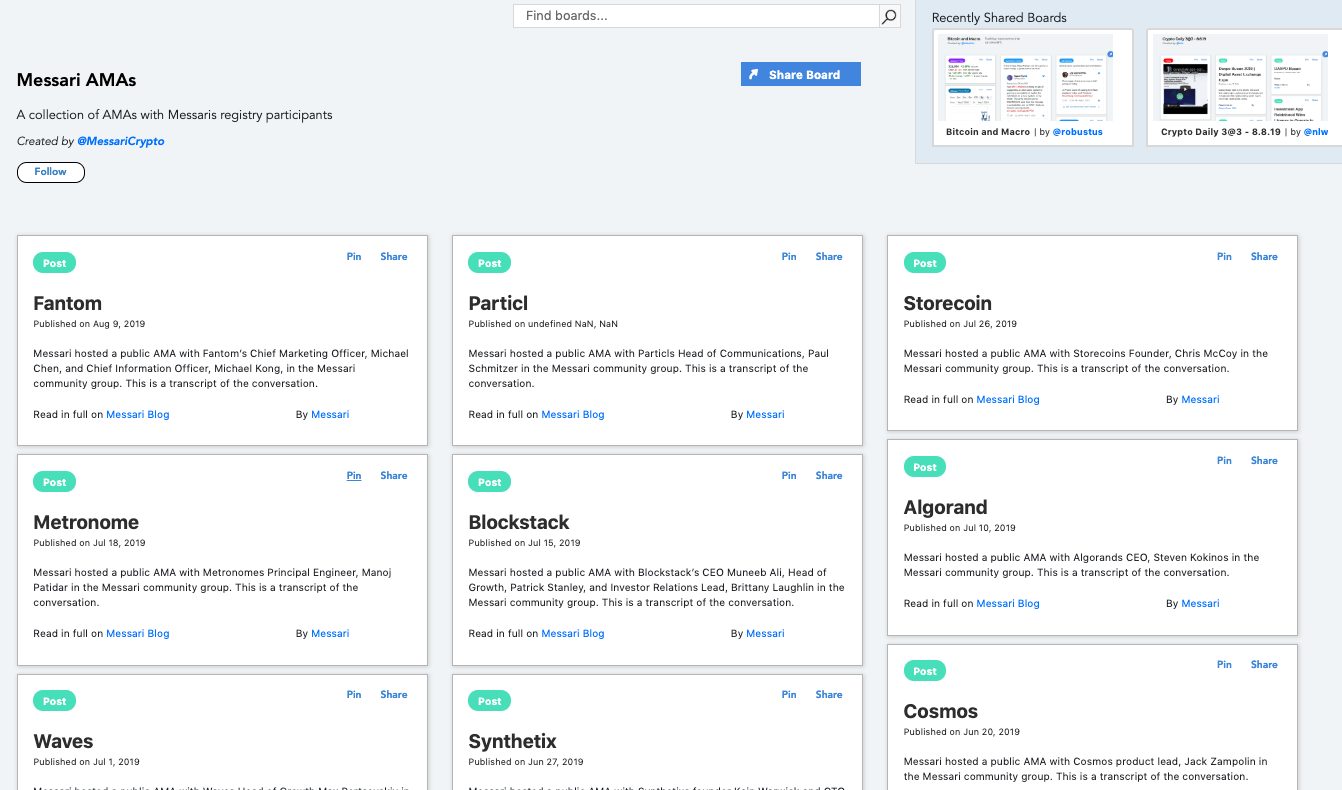 Did I miss something?
Send me the link, your twitter handle and your best imitation compression algorithm write up. If I like it, I'll include your bit next issue (with attribution).
Should your colleagues read daily? We now offer discounts for corporate access. Email us, and we'll onboard your whole team.