Discover more from Messari's Unqualified Opinions
Stay ahead of the crypto curve with our daily newsletter and weekly interactive analyst podcast. Plus gain early access to our analyst chat, and upcoming product releases.
Over 13,000 subscribers
Then They Fight You
scoring zuck's six hour cage match with congress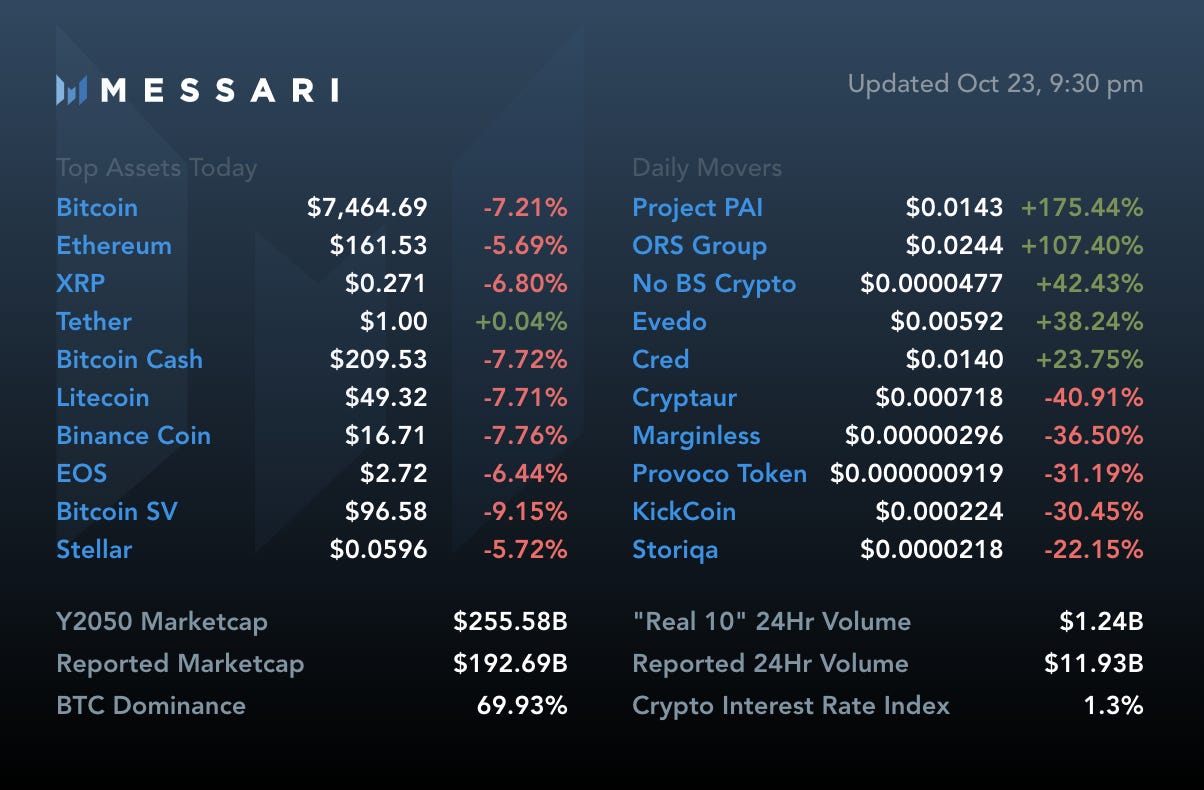 Your daily snapshot from our OnChainFX markets dashboard.
Well, that was a shitshow.
Zuckerberg's session in front of the House Financial Service Committee in Congress today regarding Libra was wild to watch. A ratings bonanza for CSPAN3 I'm sure.
I tweeted some of my cliff notes already and people liked them. (For those who don't follow me, what's wrong with you?) Here's everything you need to know:
Best and most salient, exchange:
Zuck rebuts a Congressman's concerns that Libra could undermine the dollar and US financial sanctions as a weapon against hostile adversaries, with a gem: "If we don't innovate, there's no guarantee[…]we can continue to project our influence globally."
China was a recurring bogeyman for Zuckerberg and Republicans to bring up. And there's some truth to it. Receding from global technical leadership, and preventing the mere experimentation of new financial technologies would cede reserve status (or at least financial pre-eminence) to China more quickly.
Most maddening question:
One Congressman had the audacity to ask Zuckerberg, "Why do you think your partners backed out?" This after two of the Congressmen at the hearing specifically targeted the financial firms (Visa, Mastercard, Stripe, etc.) with not-so-thinly veiled threats to disengage "or else" Congress would subject them to significant enhanced scrutiny. Zuck didn't take the bait on the question, but he should have answered: "because your colleagues resorted to mafioso tactics threatening to come after them if they didn't back out."
Most dangerous Congressman:
One of those mafiosos - a senior member of the committee - had the most cogent and dangerous critique of the day, and he didn't even ask a question.
Families save $1000s and Fed can save $100 billion in interest because of our reserve currency status, and you want to take that privilege away.

New currencies can make drug dealers 10% more effective - "how many deaths will that add over the next decade?"

We stand to lose military strength because crypto-currency is the currency of the crypto patriot" (he called out our ability to tame Turkey's press into Syria with the threat of sanctions).

"You'll wait for regulators to sign off, but they are working with old statutes. Your lawyers are going to show you that there's a loophole in a 1940 Investment Company Act that gets you where you want to go and the regulators can't stop you, and you're going to call that regulatory approval. As if the people in 1940 knew what you had in mind. You'll hire lawyers and lobbyists to prevent that from happening."

"You're going to be making powerful burglary tools only to allow your partners to commit the burglaries. And you have the gall to come here and say you're going to follow KYC. How do you do this with anonymous accounts?"

Shermann calls out Zuck for using the economically disenfranchised as a shield for building tools for drug dealers, terrorists, and tax evaders. It was an appropriate call out of bullshit, and though the language was over-the-top, it was effective because our top defense is "freedom is messy, the USG is worse."
Sherman is crypto's most savvy adversary in Congress. Watch for yourself.
The real issue on my mind:
I said in my 2019 predictions (bullet point #1 with my top bets) that privacy upgrades amidst crypto assets will cause headaches and pushback from regulated exchanges and wallets. Some of the new tech is so good it might hurt compliance efforts.
I'm getting to the point where I think major bitcoin privacy upgrades that make it difficult or impossible to abide by FATFA's travel rule will cause a fork. Exchanges will have to make a tough choice at some point. Naval was on this wavelength earlier today…maybe triggered by the same anti-privacy language I was during the hearings.
I want to write more on Zcash and privacy blacklists soon. (check back next week.)
Some paraphrased utterly ridiculous exchanges for your entertainment:
Congresswoman: "WHY WON'T YOU ELIMINATE EVIL HUMAN BEHAVIOR"
Zuck: "We can't do that, but we do 90% of all evil behavior reporting to authorities."
Congresswoman: "ARE YOU EVEN TRYING I'M OVER MY TIME"
***
Congressman: "YOU ARE A LIAR."
Zuck: "Well, I think..."
Congressman: "I HOPE YOU LEARNED YOUR LESSON MOVING ON YOU NEED TO LET US PASS LAWS FIRST"
Zuck: "Yes! Congress should pass laws that bring clarity for innovators."
Congressman: "SO THAT'S A NO THANKS I YIELD MY TIME"
***
Congressman: "YOUR BACKERS HAVE PAID $10MM EACH RIGHT"
Zuck: "No, no one has funded yet."
Congressman: "WELL SORRY I THINK YOU SHOULD PROBABLY KNOW THE ANSWER AS CEO YOU KNOW BERNIE MADOFF WAS TRUSTED TOO AND HE'S IN JAIL FOR 150 YEARS NOW I YIELD MY TIME."
***
And my personal favorite, which, mind you happened during a crypto hearing.
Congressman: "ARE VACCINES 100% SAFE?"
Zuck: "...Well, I think the scientific..."
Congressman: "AREN'T PEOPLE ENTITLED TO THEIR OPINIONS ABOUT SCIENCE WHY ARE YOU BURYING ANTI-VAXXER CONTENT."
***
Like I said, shitshow.
My mood was captured well by Balaji:
What did I miss? What did you think?
-TBI
P.S. Share. Subscribe. Spread the love. Tweet at me or Messari for requests, feedback, comments, or questions.
---
Messari Compression Algorithm
Content and thoughts from around the web as summarized by the Messari team.
The cryptocurrency market of 2017 was characterized by high-flying prices and irrational exuberance for an asset class still in its infancy. As prices cratered back to reality, investor interest in initial coin offerings (ICOs) began to fade, impacting the price performance of tokens sold in ICOs in 2018.
Our analysis shows that a significant number of tokens sold in early-to-mid 2017 provided generous returns for investors to date despite the market downturn in 2018. One notable project is Chainlink ($LINK), whose meteoric returns were driven by a series of announcements, such as its partnership with Google Cloud, earlier this year.

A look at the returns of tokens sold in 2018 illustrates the juxtaposition between market sentiment in 2017 versus 2018. The lone exception is Theta Token ($THETA), which has maintained a higher price than its token sale price tag since its mainnet launched on March 15, 2019.

For more insights like this, create your own custom screener with Messari Pro. Click here to start your free seven-day trial.
Did I miss something?
Send me the link, your twitter handle and your best imitation compression algorithm write up. If I like it, I'll include your bit next issue (with attribution).
Should your colleagues read daily? We now offer discounts for corporate access. Email us, and we'll onboard your whole team.